Elisha Kasinskas
|
July 31, 2017
A perennial favorite, the in-plant panel seminar at Print 17 is back. This year the session is titled "In-Plant Panel: Bold Moves for the Future," and will be held on Monday, September 11th from 11-11:50 am. Register for session R8 before 8/11 and use registration promo code SPSave50 to save $50 on your seminar registration.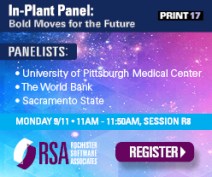 It's critically important for in-plants to make "bold moves" to survive and grow long term. Attendees will:
Hear about one new service and one new initiative each panelist is working on or has deployed
Learn about the rewards- and risks- of bold actions
See how the bold moves will increase workflow efficiency, and
Hear about the impact of new services and initiatives on these organizations.
New services and initiatives panelists will discuss include: Virtual Reality, inkjet, outdoor wide format, reinventing print on demand, refreshing cut sheet printing to gain workflow efficiency and researching and selecting Web to Print and Print MIS software solutions.
The session features in-plant leaders in Healthcare, Higher Education and Non-profit. Panelists are:
Jimmy Vainstein, Senior Project Manager for The World Bank's Printing & Multimedia Services. Vainstein manages the Bank's printing operations while exploring multimedia technologies for immersive communication experiences. His focus on innovation has help bring value to The World Bank's operation through recent print management workflow integration projects, high-speed inkjet technology implementation and pioneering Augmented Reality (AR) and Virtual Reality (VR) initiatives. The operation produces over 65 million pages annually, is ranked in the top 10 in-plant rankings and has been a recipient of several In-plant Printing and Mailing Association (IPMA) awards.
Amanda Bronowski, Print Center manager for the in-plant production operation at University of Pittsburgh Medical Center (UPMC), a world-renowned health care provider and insurer based in Pittsburgh, PA. A 15-year veteran of the printing industry, Bronowski has worked for a government in-plant, a commercial printer, and a vendor and holds a Bachelors of Applied Science (BASc) in Printing Management from RIT. The in-plant serves over 65,000 internal UPMC employees as well as the entire UPMC patient base, producing on average 14 million impressions per month totaling over 168 million impressions annually with a staff of 22. Current projections for the UPMC Print Center anticipate double the current production in the next year.
Laura Lockett, Interim Director of Reprographics & Mail Services at California State University, Sacramento, also known Sacramento State. Lockett has a Bachelor's in Graphic Design and has held a variety of positions within Reprographics during her 30+ years with the University. Lockett leads a fantastic team of five mail services and seven print professionals with an annual budget of $2.2 million. The operation was featured in a recent In-plant Graphics article about their wide format and Lockett spoke about the in-plant's wide format offerings at the 2017 Association of College and University Printers (ACUP) conference in April. Join me and these top in-plants from around the US to hear how they are making "Bold Moves for the Future."
Register Today and Watch this Blog for Stories About Each Panelist
Watch RSA's "In-plant Insights" blog for in-depth stories in the coming weeks about each of the panelists, their operations and the new services and initiatives each are undertaking to assure their longevity. These stories will offer a sneak peek at what sets these in-plants apart, the stories they will share and the valuable information that they will discuss in the session.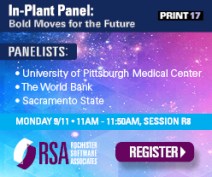 Watch the Full Session Now
See top in-plant leaders discuss their "bold moves" to survive and secure their future in this full session video.