Elisha Kasinskas
|
August 02, 2017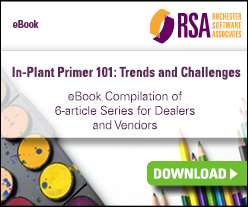 Available now in your RSA partner portal, this eBook is a compilation of the six-article series, "In-Plant Primer 101: Trends and Challenges," covering valuable, basic in-plant market information, including:
Defining in-plant print centers and the typical problems they face
Discussion of the typical contacts to engage
Recent technology changes, their impact and trends
Eight questions to ask to identify workflow solution opportunities.
Access your RSA partner portal now and download the eBook to see how you can provide compelling solutions and solve business issues for in-plant print centers. This eBook is part of our initiative "In-Plant Primer: From Operations Basics to Advanced Sales Concepts," with industry consultant, Howie Fenton to provide important information for dealers, reps and owners and print equipment vendors to better understand and offer solutions to the in-plant market. The content is comprised of two six-article series (for a total of 12 articles) divided into a basic (101) and an advanced (201) set of topics with each series compiled into a convenient eBook. The second primer article series is called: "In-Plant Primer 201: Operational and Financial Concerns" and has just started.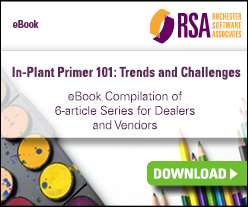 Download the In-plant Primer 101 eBook
Download the In-plant Primer 101 ebook compilation now in your RSA partner portal.
Want to learn more about this market segment? Contact an RSA Business Development Manager (BDM) today to learn more about selling and working with corporate, in-house and in-plant print centers.