Rochester Software Associates
|
October 26, 2021
The new QDirect output management release increases value to in-plant and commercial shops by adding the ability to leverage email to automate job onboarding and job output; optimize production and delivery with grouping and batching enhancements; and enables easier file optimization for print with an improved preflighting interface.
The new QDirect release can save your even more time and money managing output across your shop's entire workflow. Learn if you should consider QDirect for managing your shop.
Send and Receive Emails from QDirect with the Latest Software Release
Our new output management release adds the ability to send and receive email right from QDirect, further automating email onboarding and the job output process. Let's look at receiving email with QDirect and then we'll discuss sending email from QDirect.
For shops still receiving print jobs by email, QDirect can now save print shop staff steps by downloading and queuing email attachments directly from your shop's email server. As an output manager, QDirect acts as a traffic cop for all your incoming sources of print, controlling, routing jobs, and managing them across your entire shop's workflow.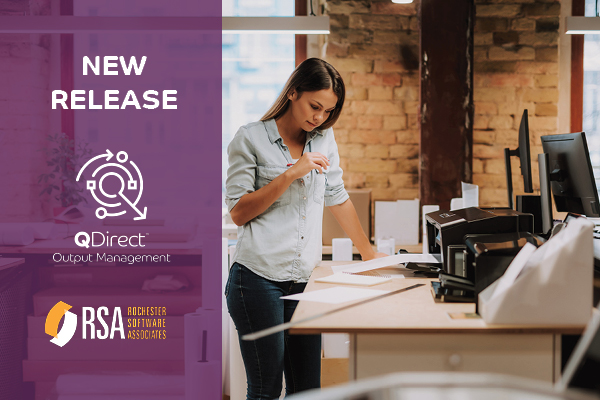 Email is just a new input type. The application monitors an email account that receives new jobs, automatically downloads the file and attachment, and adds it as a new job in the print queue. The incoming email could be from a system, an MFP, or an email from a person submitting a job. This new incoming email capability saves your shop the time of manually reviewing emails, downloading attachments, and queuing jobs. Once the job is received in QDirect, your operators can ticket or apply a default ticket that can be changed based on your customer's request.
QDirect's outgoing email capabilities send output files as email attachments, offering another communication method, faster output turnaround, and cost and time savings from electronic output delivery. Uses for the outbound email option include:
Send jobs as electronic output  
Send an electronic proof for approval before printing entire job
Send each recipient their portion of a variable output
Applications of QDirect's emailed output can include:
Email reports or other output to customers. During the pandemic, RSA had transactional customers that emailed their output (reports) to internal customers that were working remotely. This gave the end customer quick and convenient access to information they needed without a delay for shipping or a need to travel to the office to pick up output that was delivered to their office.
A commercial printer, PSP or in-plant has a customer who wants a proof of a transactional VDP job that is imposed to print N-up. The shop can use the easy drag and drop QDirect interface to create an electronic proof before the job is produced.
Send personalized output such as a brochure to each recipient in a VDP file created with RSA's ImpactVDP software.
How might you take advantage of QDirect's ability to leverage email to automate your job onboarding and offer electronic delivery of job output?
New QDirect Grouping and Batching Enhancements Optimize Production and Delivery
QDirect has had the ability to group and batch jobs for some time. For instance, jobs can be batched based on like attributes such as stock, finishing requirements, and delivery location. Schools and in-plant shops who offer routine delivery routes or transactional shops who want to household or hold and batch print a few days a week have found this functionality has created great efficiencies.
Enhancements to the grouping feature now allow for unlimited batches of related jobs to be collected and grouped over time. Just release the jobs. Using QDirect's built in rules, the batching and the production process are automated, further optimizing production and delivery.
Using grouping and batching offers these benefits:
Speed shop throughput and smooth workflow
Eliminate touches by no longer manually batching jobs
Free operators
QDirect enables print shops to maximize printer efficiency by load balancing jobs across printers and job requirements and printer status. Adding grouping or job batching is another way to derive the maximum ROI from your investment in production print equipment.
More Variable Data Print (VDP) Options Means Automated VDP
Now you can Include VDP as part of end-to-end automated workflows. The latest version adds the ability to combine RSA's ImpactVDP's easy to use template creation capabilities with QDirect. This means VDP composition can be automated from a data feed and output with no human interaction. Using QDirect's extensive print and output management capabilities, the entire VDP process can be automated. Common applications include healthcare ID cards, insurance policies, business cards, postcards, mailers and newsletters. Jobs are typically submitted from host systems and automatically processed using business rules and queued in QDirect.
QDirect Dynamics for complex variable composition needs has been available for some time. With this release, RSA's ImpactVDP Pro can be added as a browser-based easy-to use solution for variable data (VDP) template design and composition. There is no template design software to install, and it saves steps by creating press-ready imposed PDF output. ImpactVDP Pro is great for applications that only require simple rule processing. Using QDirect with these VDP solutions offers additional QDirect-powered features such data formatting conversion, automated data clean up before generating VDP output, and migrate legacy applications to a modern, easily modified personalization engine.
Additional Improvements in Preflighting Interface and Printer Monitoring and Management
Now get even easier file optimization for print with an improved interface to RSA's preflighting software, Preflight Pro from QDirect to directly apply preflighting actions to a file. For PDF based workflows, QDirect's built in industry standard preflight capability enabled by the Preflight Pro module ensures files are optimized for print, reducing slowness and failed jobs at the press.
This new release of QDirect also has enhanced the software's value as a central point to monitor the status of all of the print equipment in a production operation with additional details about the printers that QDirect is managing.
Experience the Benefits of QDirect Output Manager
See for yourself the benefits that QDirect can deliver to your operation. Explore the options and features and discuss your needs— whether you are an in-plant print center or a commercial print shop. Request a 30-minute personalized private demo to see how QDirect can manage all of the output in your production print shop and put you on the path to automate your workflow.