Elisha Kasinskas
|
December 01, 2014
Learn how popcorn, word of mouth and posters will sell your in-plant services like "hot cakes" from the "War Stories, Wise Ideas and Q &A" in-plant panel session that was held at GRAPH EXPO. Gain invaluable insights in this exclusive series of short session videos. Fifth in the 11-article series, I'm sharing key takeaways from the 10 topics the panel covered.
Marketing Success Stories from Three In-Plant Managers 
Big, Smelly and WOM Make Marketing Pop
Marketing isn't easy for every in-plant. These three in-plant managers use different marketing angles that resonate with their organizations. Hear how:
Word of mouth puts the message out for hard to reach customers
The smell of popcorn gets employees to the in-house print center
Posters and an intranet site- and more- are growing volume
Watch as Tim Smith, State of Wisconsin: Publishing & Distribution, Staci Hill, Freese and Nichols, and Ron Balderson, Navy Federal Credit Union, talk about the marketing tactics they use to win the war. Get more in-plant marketing tips and ideas here.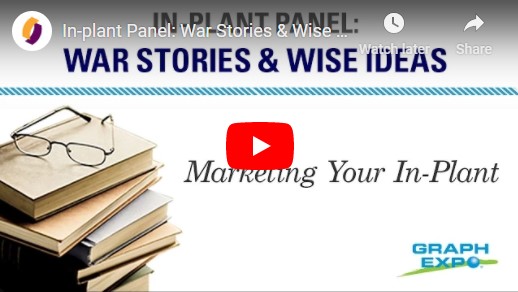 Watch the Video Series now
Get information from these in-plant and corporate print center leaders in government, banking and professional services that will help you better manage your in-house print center. Why wait? Watch the video series now.