Elisha Kasinskas
|
November 09, 2014
Watch three war stories from the "War Stories, Wise Ideas and Q&A" in-plant panel session at GRAPH EXPO 2014, and gain insights from these leaders as part of a series of exclusive short session videos. This post is the second in an 11 article series honing in on key takeaways from each of the 10 topics the panel covered. Topics ranged from honest war stories from the trenches, to equipment, managed services, insourcing, marketing and more in this far-ranging session.
3 War Stories from Three In-Plant Managers Winning the War 
In this video, thought was closing and had sold the one good piece of equipment they had because it was "costing too much." Hear this and more from panelists Tim Smith, State of Wisconsin: Publishing & Distribution, Staci Hill, Freese and Nichols, and Ron Balderson, Navy Federal Credit Union.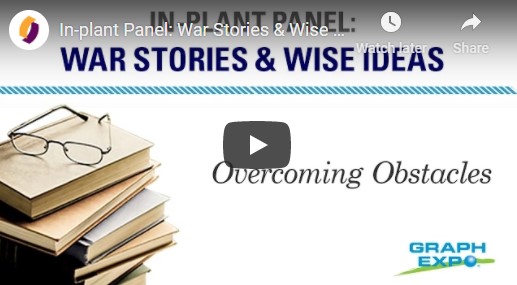 Why wait? Watch the video series now 
Get information from these in-plant and corporate print center leaders in government, banking and professional services that will help you better manage your in-house print center.