Elisha Kasinskas
|
November 15, 2013
Here's the fourth in the nine video series from the PRINT 13 in-plant panel session, "In-plant Tell All Success Stories from the Field," with four in-plant leaders discussing their success secrets. This week's video features these in-plant panelists as they openly discuss what they tried that didn't work and how they learned from their mistakes.
What Have You Tried That Did Not Work? How Did You Recover?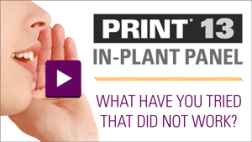 Garry Boytos talks about how he learns from trying, finding out what fits the operation, and how he partners with others when things didn't fit the in-plant operation. Abbas Badani zeroes in on the need to understand how your customers view you, sharing a story of something they tried that did not work. Mike Lincoln relates how a failure in the print center was internal and not apparent to the customer, who felt the campaign was a success. Finally, Tom Rorhbach of Progressive provides his example, about using all of the tools at the operation's disposal before requesting management budget approval. His in-house print center nearly failed to do so, and would have unnecessarily purchased two inserters. Watch to hear the full answers to the questions.
Watch this Blog for the Continuing Panel Series, or View the Entire In-Plant Print Center Leader Video Series
Learn more in these short videos from the in-plant panel of these Insurance, Higher Education, Government and Healthcare in-house print center leaders. Interested in other topics? View the entire in-plant print center leader video series collection of nearly 50 videos to watch top in-plant prints share their secrets of success, discuss how they add value, grow volume, automate, save and more.