Elisha Kasinskas
|
September 03, 2013
This article is the third of an in-depth series introducing each of the in-plant panelists on the PRINT 13 panel I'll be moderating on September 9th, titled "Empowered In-plants: Tell-All Success Stories from the Field." The session features in-plant leaders in insurance, higher education and government.
Introducing: Tom Rohrbach, Progressive Insurance Creative Business Operations
Tom Rohrbach is an IT Systems Engineer Consultant at Progressive Insurance. Over the past twenty years, Tom has had primary responsibility for the evolution of transactional print and mail from a manually intensive process to a fully automated ADF.
Creative Business Operations at Progressive Insurance provides centralized design, production, print, and distribution at a lower cost, higher quality and within turnaround times that are competitive when compared to external suppliers. They are charged with preserving the integrity of the Progressive brand by maintaining a consistent look and feel for materials.
The operation employs 130 people in two locations with a total budget of $81.4 million, producing 250 million annual impressions. Creative Business Operations supports Progressive's advertising, communications, processing, and distribution efforts by providing forms and production, print services, inventory management, and mail operations –processing 125 million pieces of mail annually.
Progressive operates in a multi-vendor environment, using web to print and variable data software that bridge across PC and Mac platforms. Creative Business Operations relies on RSA's M.I.S. Print to format transactional documents and uses QDirect output manager as a central point to interact with output when and where they need it.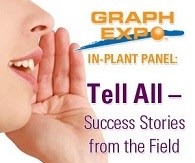 Tell All Secret: Passion for Excellence
Rohrbach attributes the success of his organization to their passion for excellence. "We have a very close relationship with our internal business partners and work together to insure that we provide the best solution to meet their current and future business needs." Creative Business Operations aggressively and continually challenges the status quo to simplify their environment and gain a competitive advantage in the marketplace.
Register Today and Read Past Panelist posts
Watch RSA's blog for additional posts and past articles in the series about panelists Mike Lincoln from the State of Colorado and Abbas Badani from Penn State.
These stories offer a sneak peek at what sets these in-plants apart and the information they will share in the session.