Elisha Kasinskas
|
December 06, 2013
In video seven of our nine-video in-plant panel series of in-plant leaders discussing their success secrets, this week's video features these leaders talking about the biggest changes they plan in 2014.
What Is the Biggest Change Planned for Your In-plant in 2014?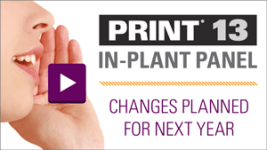 Abbas Badani of Penn State talks about his new initiatives, including partnering with a vendor to create a fleet walk up copy program for student work and implementing RSA's WebCRD in-plant web to print software. After a failed attempt several years ago, Badani plans to implement more systematically, and he has benchmarked with another nearby user, University of Pittsburgh Medical Center (UPMC), to gain best practices and ideas. University of Texas Health Sciences San Antonio's (UTHSCSA) Garry Boytos also anticipates adding web submission in 2014 to ease order entry, eliminate manual shop work and increase job quality. Colorado State Printer Mike Lincoln is planning to add continuous fed inkjet with cross-agency TransPromo and new ADF. 
Watch this Blog for more of the Panel Series, or View the Entire In-Plant Print Center Leader Video Series
Learn more in these short videos from the in-plant panel of these Insurance, Higher Education, Government and Healthcare in-house print center leaders. Interested in other topics? View the entire in-plant print center leader video series collection of nearly 50 videos to watch top in-plant prints share their secrets of success, discuss how they add value, grow volume, automate, save and more.