University of Pittsburgh Medical Center (UPMC)
Web-to-print delivers savings, productivity, and better user experience
"
The first application of WebCRD Dynamics™ was physician appointment cards that saved UPMC more than $30,000 per year. This type of variable data printing job was previously sent to an outside vendor. We're now enabling clinicians to efficiently communicate with their patients and UPMC to meet our mission of providing outstanding patient care.
Customer Background/Solution Overview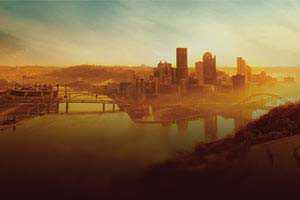 UPMC is a global health enterprise with more than 50,000 employees, 20 hospitals, 400 doctors' offices and numerous specialty clinics and other facilities headquartered in Pittsburgh, Pa. Their centralized print center supports them all and now WebCRD web-to-print capabilities are available to the entire organization—improving the user experience, reducing inventories and job turn around and saving the Health system tens of thousands of dollars that they can use to achieve their mission of providing outstanding patient care.
"Our Print Center's goal is to provide an efficient, high-quality retail experience for individual users as well as internal service organizations," says John Nestor, Print Center Manager. "We need to provide low-cost digital printing services that support both the clinical and administrative needs of our organization."
To assess and improve their Print Center operations, UPMC engaged RSA in 2009 and worked together with members of UPMC Client Services to complete a thorough Business Impact Analysis.
"We started by asking some of our key customers what their expectations were for the print center and what they saw as our shortcomings," says Dave Smith, Client Services Manager. "A lot of the responses were that our paper-based requisition system didn't allow for online ordering, job status tracking, or visibility into the details of orders."
The UPMC print center prints numerous forms with pre-set attributes such as paper type, orientation, and finishing. With manual job submission, users had no assurance they would receive orders the way they expected. The software's SurePreview™ feature shows all finishing options and provides an on-screen document preview.
Beyond the need to improve the user experience, the manual system also failed to provide Print Center employees with an accurate means to track work in progress or historical data. "You can't tell by looking at a pile of paper what the due dates or volume expectations are of a given order," says Nestor. "We were also frequently asked by customers, 'how many times did I print this last year, and how many total pieces did we receive?' Since paper orders were bundled by month, it was difficult to answer. Now we can quickly answer user requests like this, plus our own staff can analyze our on-demand business—how much is forms, how much is sent print-ready by the client. Most importantly, we have accurate measurements of our volumes, turnaround performance, and on time percentage."
UPMC has been leveraging RSA technology for years.
"
Our clinical and office staff wanted the simple, efficient retail experience. WebCRD provided it.
The UPMC Print Center initially installed M.I.S. Print™ in 1996 so their legacy LCDS and Metacode jobs could be printed on high-speed PostScript printers along with other PostScript jobs. At that time, RSA added workflow enhancements to automatically route jobs to appropriate printers based on job characteristics and automated the use of multiple resource sets to enable running jobs without stopping to load individual resources for different hospitals. In 2006, UPMC added QDirect™ to further automate job management and accounting. Then in 2009, they added WebCRD to fully automate on-demand job submission, improve forms ordering accuracy, and reduce the number of touch points in their workflow. Now all these software solutions are running in tandem to print Explanation of Benefits (EOB) forms, patient statements, clinical results, lab reports, and even financials for the University from the mainframe. These key software solutions help the print shop innovate and operate in an efficient and effective manner, in order to carry out the organization's mission to provide outstanding patient care.
WebCRD delivers the key benefits UPMC needs
Ease
Online catalog allows users to view content and revision dates to ensure they are ordering the correct materials. Previously, they would have to wait until they received the job to validate content.
Accuracy
As a health care facility bound by Health Insurance Portability and Accountability Act (HIPAA) regulations, certain notices need to be posted in all areas of the hospital. Now, if a notice needs to be changed, the Print Shop can immediately identify who ordered a particular sign through the WebCRD catalog so the signs can be removed and new ones ordered. Previously, this process took days and UPMC did not have assurance that all parties had been notified.
Productivity
Users can track orders in real-time. Before the solution, users would have to call the print shop repeatedly, which affected productivity for both parties and wasn't the best use of UPMC's collective resources. Now the print center handles more jobs with faster turnaround due to the application's automated production management (AutoFlow™) that eliminates "touches" and manual tasks like job re-ticketing.
Focused on continuous improvement
UPMC plans to continue improving workflow automation and cost-effectively keeping more work in house by expanding their use of features like WebCRD Dynamics™. This powerful tool works with design templates to automatically generate personalized jobs using variable data and creating print-ready production files.
Going forward, UPMC anticipates using even more features of WebCRD to help them develop service levels in sync with operational goals and reduce physical inventory by leveraging this on-demand solution. "We will use the catalog as the primary forms repository and use the operational data that can be exported from WebCRD to support our organization's goals and objectives," says Phyllis Szymanski, Lead Process Engineer. "We are excited about the higher level of customer satisfaction and increased productivity in the print center. We look forward to building on this momentum by leveraging the capabilities of the software to enable our print center to do more without increasing staff."
© 2011 Rochester Software Associates, Inc. All brands and product names are registered trademarks of their respective companies.
Study Quick-Look:
Application Study Industries
Challenges
Reduce touches
Accelerate turnaround time of print jobs
Increase volume without adding staff
Improve accountability and tracking to validate processing
Statistics
Employees:
50,000
Sites:
20 hospitals
400 doctors' offices
Numerous specialty clinics
Print Staff:
13
Volume:
15.6 million annually (1,600 orders/ month)
Solutions
WebCRD™ - Web-to-Print submission and automated production management software
LDAP user authentication
WebCRD Dynamics™ Variable Data Module
Results
Saved tens of thousands of dollars and eliminated four touch points, helping UPMC best use their resources
Cycle time reduced 33%
20% per month growth rate
Account code validation eliminates hours of manual validation
30% reduction in forms inventory