Howie Fenton
|
July 07, 2022
I recently attended the In-plant Printing and Mailing Association (IPMA) conference in Buffalo and was reminded that in-plants can't spend all their time problem solving because they need to remain focused on aligning with their parent organization. This was not how the show started for me, but it was my takeaway as it ended. Like others, I was happy to be out again, traveling and visiting with friends and colleagues. As the conference progressed, I discovered that many were consumed by their current problems and were losing sight of the bigger picture.
Upon arriving at the show late Sunday, most of my conversations started with health questions-- did you catch it, was it serious, any lingering effects, how is your family, how is your staff, etc.
After a while, I started to hear Tim Fischer's voice, one of my ex-bosses saying, "If the manager is working on the engine in the engine room, who is steering the ship?" I resisted discussing this until I heard an excellent presentation about workflow automation.
Admittedly finding paper and rehiring staff is essential, but as a manager, that cannot dominate your time. While a few days a month are acceptable, it is unacceptable to spend weeks, months or years focused on finding paper or hiring new staff. The problem with focusing all your time on production issues is that it takes your focus away from strategic issues like remaining aligned with the parent company.
Future-proofing Your In-Plant with Productivity Gains
I was reluctant to broach this subject until one presentation showed how one in-plant has remained focused on working toward their strategic goals for over a decade. This presentation, entitled "Ideas for Future-proofing your In-plant", was moderated by Elisha Kasinskas from RSA. On the panel were two staff from Blue Valley Schools, Bruce La Londe, the Printing and Logistics Services Coordinator, and Jason Gilliam, the Director of Business Operations.
If you have never heard it before, the journey to achieve over 70% workflow automation at Blue Valley is remarkable. One of the first things mentioned was that this has not only been a long journey but that the journey never ends. According to Jason Gilliam, "Whenever I talk to other in-plant managers about workflow, I tell them there is a lot of work upfront to get a workflow established, but that is not the end. It is not a build it once. And you're never done. We are always looking to expand upon it and improve it."
For Blue Valley to strategically align with the parent company's mission, they had to focus on increasing productivity, reducing turnaround time, and maintaining a low head count. Gilliam continued, "Our journey started in 2008 when we started with WebCRD and QDirect. Contrary to the urban legend, we did not start with 115-120 AutoFlow™ rules (automated workflows) in year one. That came over time. As you can see on this slide are some of the milestones. It was not until 2009-2012 that we built the majority of AutoFlow rules. Why that's important to use because (today) 70%+ of the jobs we produce we don't have to touch until it comes off the digital device."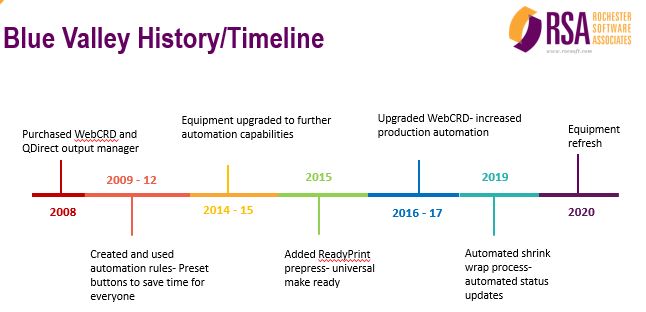 As you can see, in 12 years, Blue Valley has focused like a laser beam on its productivity, and it has paid off. For example, during peak periods, they complete 2,200 orders a day. Considering that most in-plants don't produce 2,200 jobs a week, this is best in class. Also, keep in mind that they are a small shop with less than ten staff. Their eight person staff prints over 72M pages a year which translates to 9M pages/person/yr. This is world class.
Gillam concluded session with seven ideas for future-proofing your in-plant. Get the Ideas for future-proofing handout.
 Focus on the Basics for Long-term Success
After Blue Valley Schools' presentation, I felt more comfortable recommending that in-plant managers offload some of those day-to-day headaches, such as finding paper and searching for staff.
If you are frantically working to overcome post-COVID issues, consider getting back to basics. In my presentation at the IPMA conference, I offered suggestions to increase sales, recruit staff, increase productivity, and improve costs and price.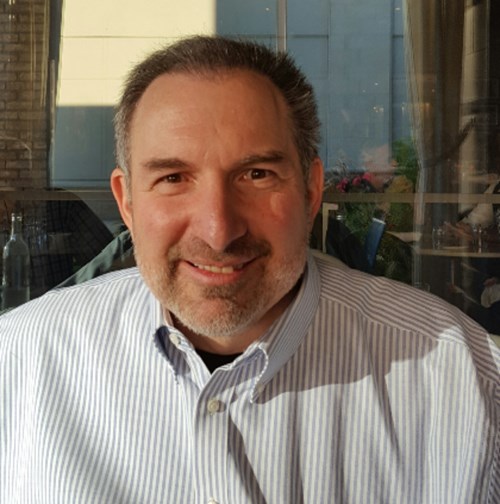 Valuable Resources to Focus on Your Shop's Future
Get valuable resources that will focus you on your shop's future. Watch the "Ideas for Future-proofing your In-plant" session highlights or full session videos or request a copy of the slides from my session, "Lessons Learned from COVID- the good, the bad and the ugly."