Home /

Ideas for Future-proofing Your In-plant Session
Ideas for Future-proofing Your In-plant Session
Watch this highly automated K-12 in-plant- 72% of jobs automatically flow with no operator intervention- share how they have balanced today's challenges with tomorrow's opportunities to prepare their shop for the future. They discuss how using automation and workflow software future-proofs their operation and enables them to reap the benefits to grow without adding staff, diversify services, and more. They offer key ideas about their use of workflow automation and software to manage their shop that other in-plants can use to future-proof their own print centers.
Take Aways:
See how using

automation and workflow software has future-proofed this in-plant
Hear what the essential software and tools are in their operation

Gain valuable insights and ideas to future-proof your own shop
Listen to find out how the automatic optimization of in-coming work has enabled other processes such as finishing to be automated and freed staff for innovation and new services like wide format.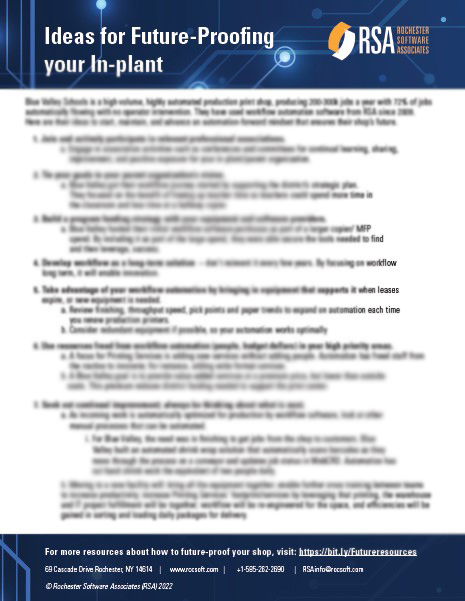 Get the 7 Ideas for Future-Proofing Your In-plant Handout
Get the ideas for future-proofing your in-plant session handout. Read these exclusive ideas from Blue Valley Schools to start, maintain, and advance an automation-forward mindset that ensures their shop's future.
About this Presentation
Presented At: IPMA 2022 Conference
Introduction: Elisha Kasinskas (Rochester Software Associates)
Moderators: Elisha Kasinskas (Rochester Software Associates)
Panelists: Bruce La Londe (Blue Valley Schools) and Jason Gillam, SFO (Blue Valley Schools)
Presented at the IPMA 2022 annual conference. Copyright RSA, all rights reserved. No part of this may be used without prior permission from RSA.