Elisha Kasinskas
|
August 03, 2015
This article is the first of an in-depth series introducing each of the four in-plant panelists on the GRAPH EXPO panel I'll be moderating on September 14th, titled In-Plant Panel: Champions Engage for the Future." The session features in-plant leaders in Banking, Government, Higher Education, and Non-profit.
Introducing: Karen Meyers, Michigan Farm Bureau, Panelist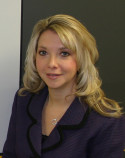 Karen Meyers is the Business Manager for the Michigan Farm Bureau Centralized Print and Mailing Services Department. With the department for over eight years, Meyers has a background in Graphic Design and Marketing and a degree in Industrial Supervision and Management. Her marketing background has been helpful promoting the department, which has seen double digit percent increases in digital volume over 2014. In addition to overseeing day to day in-plant operations, the fleet, and all business management decisions, Meyers is an active member in a software vendor's User and Strategic Partner Groups.
Known as the state's largest general farm organization, the non-profit in-plant operation serves the Farm Bureau family of companies and outside clients. The shop's staff of 6 produces over 6 million digital and offset impressions (about 75% digital and 25% offset) and over 5,500 feet of wide format materials, as well as processing 1.3 million pieces of mail annually, with a total budget of $1.4 million. Services offered by in-plant include: graphic design; dimensional printing; personalized direct marketing; printing; binding, finishing and mailing. Typical pieces produced include business cards, postcards, brochures, newsletters, letterhead, envelopes, signs, and banners.
Committee Engages Customers for the Future
Michigan Farm Bureau focuses on partnering with internal and external clients to enhance the in-plant's success. Their goal is to be THE source for all printing and mailing needs. After hearing how in-plant University of Pittsburgh Medical Center (UPMC) successfully utilized a "Print Governance Committee" during a presentation given by UPMC at Graph Expo in 2013, the Farm Bureau implemented the same concept. The committee consists of key staff throughout their family of companies and is a cross-company committee. The Governance Committee has allowed the in-plant to be proactive rather than reactive, and get in at the start of projects to offer advice, partnership, and better project preparation. This approach also enables analysis of potential upcoming equipment needs and future changes that the department will need to make to remain relevant. Due to the committee and relationship approach, the operation secured a very large project that might otherwise have been outsourced. Meyers states, "We are all champions when we work together."
Register Today and
Watch this Blog for Stories
about each Panelist Watch RSA's In-plant Insights blog for in-depth stories about each of the panelists and their operations in the coming weeks. These stories will offer a sneak peek at what sets these in-plants apart, the tools and technology they are using to grow, and the valuable information that they will share in the session.