Elisha Kasinskas
|
December 05, 2014
If you're an in-plant manager thinking about adding or changing equipment, this five-minute video is filled with insights from three seasoned print center managers as part of the "War Stories, Wise Ideas and Q &A" in-plant panel session at GRAPH EXPO. Gain invaluable insights in this exclusive series of short session videos. Sixth in the 11-article series, I'm sharing key takeaways from the 10 topics the panel covered.
Equipment & Software Tips from Three In-Plant Managers
Leasing, Used Purchases and How Equipment Perfectly Tripled Volume All of these in-plant print centers have changed or added equipment in the last three years. For some, it's been a total change over, for others it's been key equipment or software that justified the in-plant and brought in higher value jobs. Listen to learn how:
One in-plant is anticipating less equipment and plans to change their cut sheet platform
Leasing freed up cash flow to put in Web to Print, and add laminators and folders
Utilizing used equipment saved the organization dollars while justifying the in-plant and contributed to tripling their perfect volume.
Watch as Tim Smith, State of Wisconsin: Publishing & Distribution, Staci Hill, Freese and Nichols, and Ron Balderson, Navy Federal Credit Union discuss how their evolving needs have impacted the approach that they each took. As you budget for next year, you'll want to read our upcoming posts about contracting and managed services, and get an even closer at equipment as the panelists talk about new technology and equipment and offer great tips.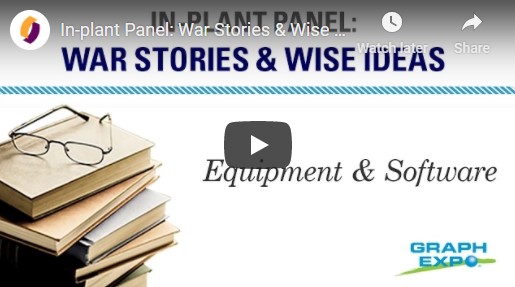 Why wait? Watch the video series now
Get information from these in-plant and corporate print center leaders in government, banking and professional services that will help you better manage your in-house print center.