Elisha Kasinskas
|
November 14, 2014
Get three key ways to overcome obstacles from the "War Stories, Wise Ideas and Q &A" in-plant panel session at GRAPH EXPO, and gain insights from these leaders as part of a series of exclusive short session videos. This is the third segment in an 11-part article series; I'm honing in on key takeaways from each of the 10 topics the panel covered.
Three In-Plant Managers Share their Key to Winning the War. 
The 3 Keys for These In-Plant Managers Are:
1) Tearing Down Walls
2) Displaying the Daily Production Schedule
3) Open In-person Communication.
Watch as Tim Smith, State of Wisconsin: Publishing & Distribution, Staci Hill, Freese and Nichols, and Ron Balderson, Navy Federal Credit Union, detail how these seemingly simple ideas have had a huge impact on their ability to win the war.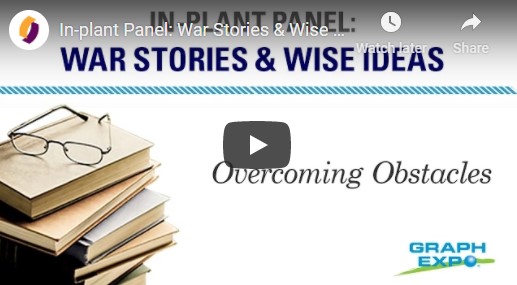 Why wait? Watch the video series now
Get information from these in-plant and corporate print center leaders in government, banking and professional services that will help you better manage your in-house print center.