Home /

Strategies for Adding Value
In-Plant Power Play: Game Changing Strategies for Adding Value
Learn how to build your plan and see how four top in-plants are increasing their strategic print center value.
Four top in-plants in Higher Education, K-12, Healthcare and Financial Services are meeting today's challenges by increasing the strategic value of the print center in their organizations. These print centers are serving more customers, capturing more work, and positioned themselves as a strategic asset rather than a cost center.
View the introduction presentation and learn how to build your plan to add value by:
Assessing your strategic position in your organization
Evaluating your customer base and services
Understanding the alignment of your goals and objectives with the organization's
Identifying key actions other in-plants have taken to increase the value of their print center such as participation in the organization's total print strategy development
Gaining ideas from in-plants that have successfully strategically positioned themselves
Also watch the case study videos to see how four top in-plants are adding value.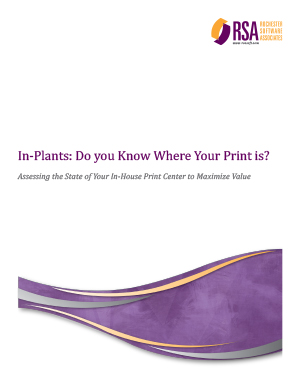 Register to Download Related White Paper
For more information on how to assess the state of your in-house print center, get our related white paper "In-Plants: Do You Know Where Your Print is?"