Elisha Kasinskas
|
May 15, 2019
KeyPoint Intelligence estimates that between 2019 and 2021, Variable Data Printing (VDP) will grow at a rate of 10% a year and by 2021, 31% of print volume produced will be variable[i]. That's a significant number! That kind of growth means sooner or later you'll need to discuss the benefits of VDP with your in-plant clients.
While research conducted by In-Plant Graphics reveals that 72% of in-plants offer VDP for marketing, transactional, and direct mail projects, that doesn't mean they are knocking it out of the park. According to In-Plant Graphics, VDP is responsible for an average of 21% of an in-plant's digital printing jobs, indicating there's plenty of room for growth.
Don't believe for a second that VDP is outside your sphere of knowledge. If you're selling software such as RSA's WebCRD Web to print, a little knowledge of VDP is helpful, particularly if you employ a sales specialist with an aptitude for selling to in-plants. If the questions become too technical—a possibility—there's always the resources of your software provider, such as RSA. 
VDP Benefits
VDP software can make it easier for corporate and in-house print centers to create customized products, expand their services, and retain more work in-house—jobs customers were previously outsourcing.  It can also help an in-plant attract more customers by adding customized catalog items as the large online print shops do.
VDP jobs run the gamut, from business cards, letterhead, and stationery, marketing and fund-raising materials, to notices, and certificates.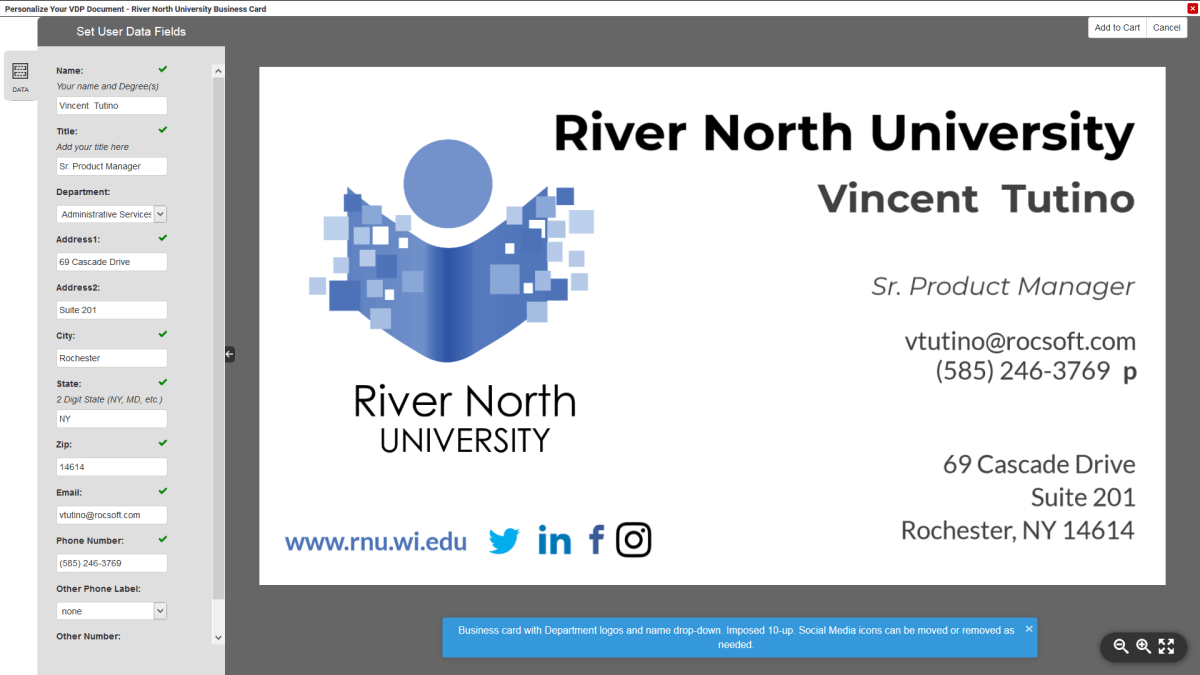 VDP can also be a catalyst for an in-plant to process new jobs such as wide format—think posters and signs. These jobs can be easily formatted via templates that save the shop significant time, can ensure consistent branding, and enable customers to input various fields and upload images and graphics quickly and easily. And all of this can be accomplished without the need for costly designers if you have the right VDP software.
Those are just the benefits of VDP for the in-plant and its customers. Dealers selling a VDP solution benefit as well by helping their customers increase their volume, potentially creating a need for additional printers, and open the door to conversations about other products and solutions the dealer is selling such as wide-format printers. And when that happens, the dealer has a new reference that can help he or she win new customers.
When you consider the benefits of VDP and how time and cost concerns can be addressed with the right software, even a cursory knowledge of VDP is useful when discussing the benefits. 
Obstacle Course
But let's not overlook the challenges surrounding VDP—and how you can help your customers overcome these challenges.
One reason some in-plants shy away from VDP is that they perceive it as complicated. Creating VDP templates in some VDP software can be complex, and designers and programmers are required to create and develop VDP items. Those staff positions cost money. And many customers simply don't want to take time to learn how to create an effective VDP piece.
Time is another issue and VDP might be viewed as one of the more time-intensive tasks in an in-plant. Keypoint Intelligence research has found that VDP programming and VDP document design were two of the most time intensive tasks in a shop at about 60 minutes each. Those numbers indicate the time associated with VDP jobs has historically not been on the in-plant's side.
Easy VDP Could Save $64K, Increase Print Volume and Make Customers Happy
Implementing software such as WebCRD and balancing that with some basic knowledge of VDP can help you steer the in-plant towards a solution that saves time, reduces costs, and enables them to provide their customers with an additional services offering, which if they don't offer it, their customers may continue to outsource those jobs or not consider VDP at all.
The latest version of RSA's WebCRD Web to print (V11) eliminates many of the obstacles that prevent in-plants from offering VDP. It includes an integrated easy to use VDP module that doesn't require the talents of a designer or programmer—positions not always in the budget of the average in-plant. It is available at no extra cost with WebCRD, addressing budgetary concerns. ImpactVDP, the VDP module is web-based, and has simple to set up templates that enable customers to order variable items simply by using the templates in the catalog.
One can't underestimate the impact of the templates, which allow for repeatable ordering, so the in-plant doesn't have to lay out a document every time. The template is created once and used again and again by customers, saving time and freeing shop staff for other activities.
Just think of the cost savings. Consider the average time spent on VDP design and programming is two hours. Figure a graphic designer's average hourly rate is $64 an hour. For 500 VDP jobs at two hours per job, that's $64,000 in design/programming time. No wonder some in-plants have been hesitant about implementing VDP.
Support is essential even with the easy to use software and RSA offers a wealth of sales and customer assistance, including training, design assistance, and a VDP ROI and Savings Analysis and Calculator, which can be helpful for justifying the investment.
Now that you understand the benefits of VDP, the obstacles, and a solution for overcoming the obstacles in the in-plant, consider once again a benefit that every in-plant could understand. And that's that 70% of in-plants who provide VDP say it has led to more jobs, which equates to more print impressions.
Who can argue with that?
Learn More about Getting Customers Started or Focused on VDP
Contact your local RSA Business Development Manager to learn more about how you can get your customers started on or more focused on VDP by leveraging the latest features of WebCRD with ImpactVDP.
[i] North American Software Investment Outlook: An Evaluation into Costs and Savings Keypoint Intelligence | InfoTrends 2019.