Elisha Kasinskas
|
February 20, 2020
Never underestimate a software solution that can make an in-plant more efficient, save them time and money, but also opens the door to more sales—for them and you the dealer. VDP software does just that.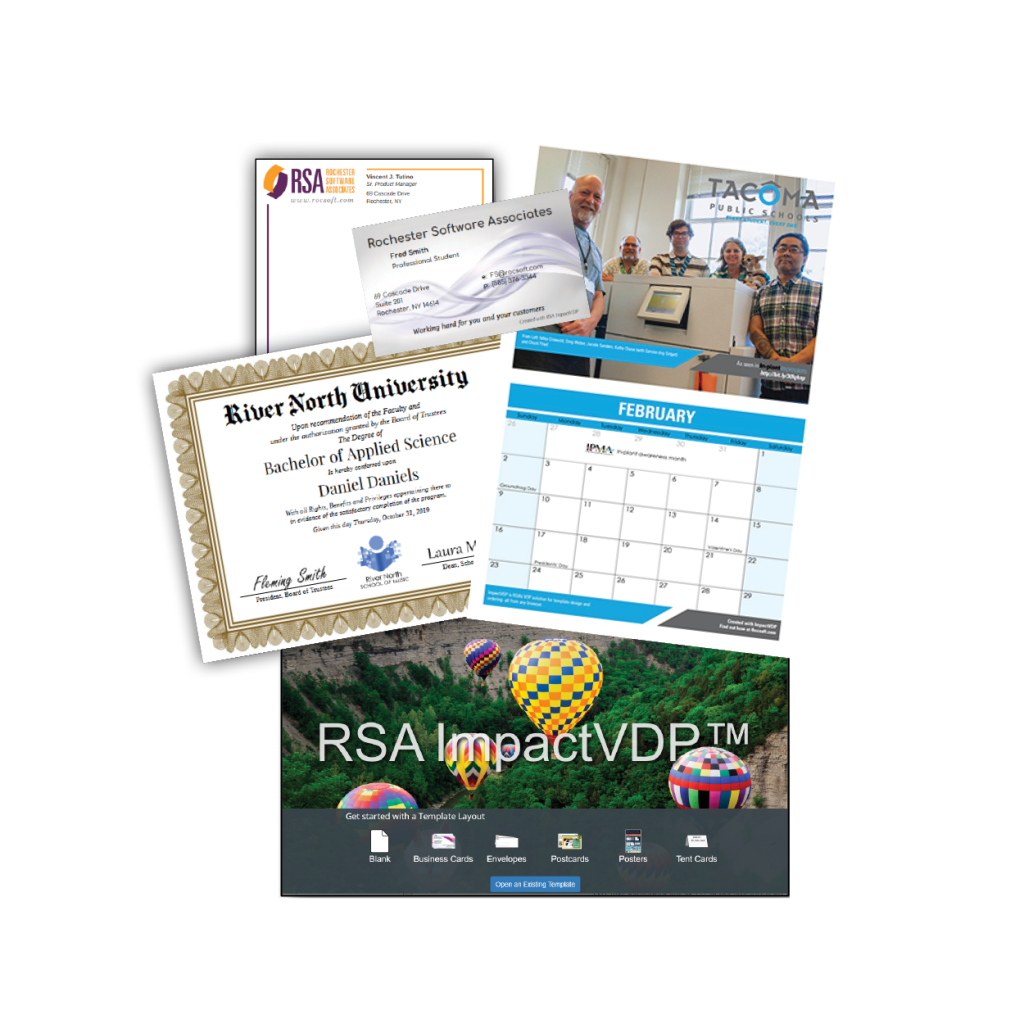 Easier Does It
VDP software, such as RSA's ImpactVDP™, allows corporate and in-house print centers to create customized products, expand their services, and retain more work in-house. It can also help an in-plant capture new customers by adding customized catalog items to their offerings just like the large online print shops. It's not unusual for in-plants using VDP to expand their offerings to handle new jobs such as wide format for creating posters and signage for their customers.
RSA's ImpactVDP is a browser-based tool that enables template design and ordering from a browser. It requires RSA's Web to print solution WebCRD Version 11.0 or higher. The basic version of ImpactVDP is included in WebCRD at no additional cost and can be updated separately from WebCRD.
ImpactVDP makes it easier for the in-plant to create VDP output without a graphic designer.
Built-in templates streamline the process by eliminating the need for in-plant personnel to create a template prior to adding the variable data.
Templates allow for easy formatting, saving the shop time while enabling customers to more quickly and easily input various fields and upload images and graphics. 
The templates also allow for instant preview and updates as users input data.
Templates can be locked or left open for customers to modify during the ordering process, enhancing customer interaction.
Some of the enhancements in the upcoming ImpactVDP V2 release include the ability to use customer-supplied fonts, multi-record upload and data editing, and grid lines that can simplify layout.
The final product is a press-ready imposed PDF. Overall, it's a less complicated and faster way of processing VDP jobs.
Because everything is created in the browser, there is no additional software to install so there is no need for IT personnel to get involved. Creating VDP output without programmers or designers lowers the costs associated with VDP, particularly when compared to programs such as Adobe InDesign, FusionPro, and XMPie.
ImpactVDP is an open system. Although it may not offer all of the functionality of the higher-end tools that require programmers and designers, it can handle about 80% of the VDP jobs in an in-plant. If a team member can work in PowerPoint or Word, they can easily master ImpactVDP.
VDP Applications
VDP applications can be horizontal or vertical.
Examples of horizontal VDP applications include:
Business cards
Letterhead
Stationary
Marketing and fund-raising materials
Notices
Examples of vertical applications include:
Award certificates, diplomas, door hangers, labels and stickers for K-12
Recruiting materials and customizable posters for higher ed
Notepads and calendars for marketing departments
Rack cards, appointment cards, and prescription pads for hospitals and doctor's offices
Use More, Save More, Buy More
The more the corporate in-plant uses the program, the greater the ROI. For example, many organizations still have team members typing into a design template whenever they receive a business card request. The job must then be laid out prior to sending the imposed output to the printer. In the time it takes to create one template, a team member working in ImpactVDP could layout 10 business cards.
Industry statistics reveal that organizations who add a VDP solution produce more volume. That's a huge plus for the dealer who helped the customer increase their volume.
The ROI of in-plants who are using ImpactVDP rises with every additional business card produced. The faster a print shop can process these jobs, the easier it is for customers to place an order, which often leads to higher adoption rates similar to Web to print. The money saved can then be used to fill other needs.
Once a solution like ImpactVDP is installed and the in-plant sees the benefits and the ROI, customers become more comfortable ordering from the dealer. Often, when an organization implements an RSA solution, 80% of the time, within a year or two, they purchase more printers or are more likely to acquire other products and solutions sold by that dealer. At that point, the dealer is stickier with the customer and is reaping the rewards of a recurring revenue stream. Stickier customers are also excellent references. 
Get Your Customers Going with VDP
Contact your local RSA Business Development Manager to learn more about how you can get your customers started on or more focused on VDP by leveraging the latest features of WebCRD with ImpactVDP.