Rochester Software Associates
|
June 16, 2021
The Path to Your Customer's Digital Transformation Begins with Eliminating E-mail
Looking to accelerate your customer's digital transformation? Encourage them to do away with e-mail associated with orders for print and workflow processes. Look at the facts: e-mail is inefficient, time consuming, typically requires a shared inbox, lacks collaboration, and cannot easily be integrated with workflow. Do your customers have any idea of the time and labor costs related to processing e-mailed print orders and artwork? Do they understand the savings they could achieve by automating order entry and other e-mail processes? If they don't, they should because email has outlived its usefulness as an online ordering tool.
With that in mind, let's examine the time, costs, and production challenges of accepting e-mail orders and make a case for how Web to Print software like RSA's WebCRD can save your customers money and accelerate their digital transformation.
Too Much E-mail
"The 2021 North American Production Software Investment Outlook" study from Keypoint Intelligence found that 93% of print service providers (PSPs) still receive orders via e-mail. Among those 93%, 35% of all orders come in via e-mail. In addition, 92% of customer artwork is sent by e-mail. That's unacceptable in an era of Web to Print solutions that enable greater efficiencies and fewer errors. To compound the problem, each e-mail order requires 2.2 follow-up emails, which amounts to an average of 4.5 minutes for e-mail exchanges for the print shop, according to Keypoint Intelligence.
We are not here to bash e-mail. Admittedly, it is still more efficient than phone orders, online forms, direct sales, inside sales, and print brokers, but less efficient than interfacing with other companies' ordering systems and the most efficient method of all, per Keypoint, is Web to Print software. (See chart.) Not only is e-mail less efficient, it's costly! Fully $10,584 in minimum annual labor costs are associated with e-mail orders, according to the Keypoint study. When customers are looking to reduce their operating costs, order processing and workflow are excellent starting points. Another viable reason for eliminating offline ordering methods is that they are not compatible with workflow automation.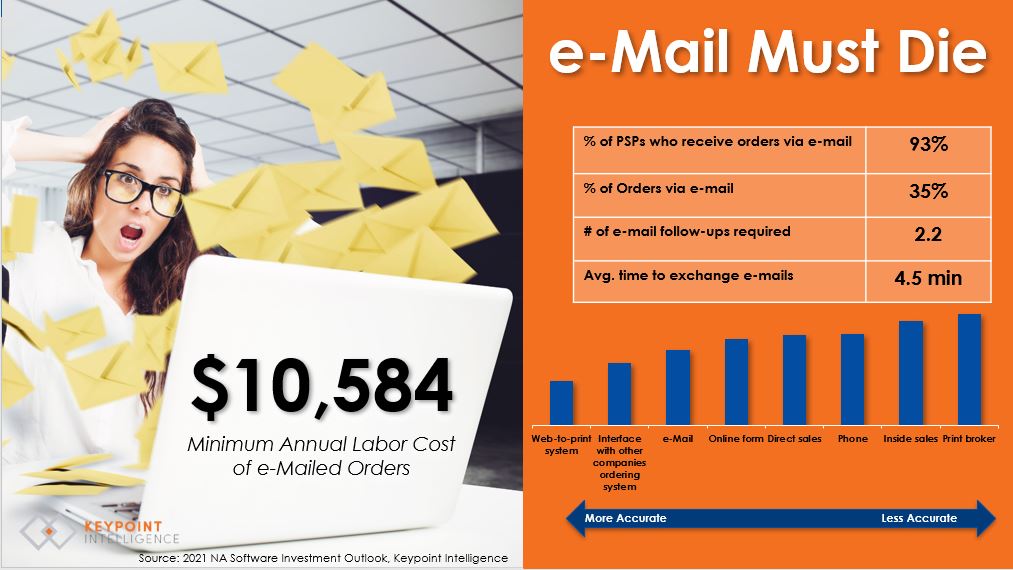 Six Problems When Receiving Orders Via Email
No doubt some of your print shop's customers are so accustomed to receiving orders via e-mail that they overlook or simply accept the problems associated with it. As your print shop's customer's trusted advisor, it is your responsibility to point out the issues and encourage them to think about why they still receive orders via email. "We've always done it this way," should not be why they don't implement a more efficient and secure method for receiving orders.
These are the most common problems with job orders submitted by email:
E-mail is less secure
It often requires the PSP to set up an inbox for a single user
Limited file sizes can be sent via e-mail
Collaboration is not an option
Approvals are missing
It cannot be easily integrated with workflow
Source: Keypoint Intelligence, 2021 North American Production Software Investment Outlook
More Email Challenges
The biggest challenge with e-mail is managing a high number of small jobs, which was cited by 47% of respondents in the Keypoint survey, As run lengths shorten, it's simply not possible to touch every job and harder still to keep costs low if jobs are handled manually via e-mail.
Why Web to Print Software?
The benefits of Web to Print software may be obvious to you, but not to your print shop customer. Emphasize the benefits identified in the Keypoint study who plan to invest in Web to Print software. Those benefits include that it:  
Is 3X more accurate than email and 3X faster for pricing/quotes
Is the most integrated of ordering methods
Improves the print shop's customers' online ordering experience
Increases efficiency when on-boarding the customer's order info into the shop's print MIS and workflow
Offers a Web storefront to attract new customers
Attracts enterprises with multiple departments that need to manage their print spend
Can help the print shop reduce sales staff
Offers a new way for customers to order during the COVID-19 pandemic
Reduces internal staff, such as internal support and estimators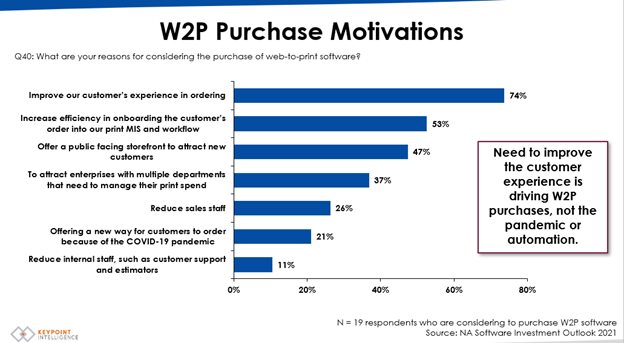 Farewell E-Mail
You may never totally kill e-mail in all your print shop's customers' organizations, but as their production print and workflow software vendor you are well positioned to drastically reduce its use for online ordering, especially with those customers interested in reducing costs. Once the print shop experiences the benefits of a Web to Print program, many will make it their mission to convert as many of their customers as possible.
Also, keep in mind that savings from email is only part of the cost reductions realized from Web to Print because email is primarily for job submission. The upcoming summer release of RSA's WebCRD offers added benefits that further reduce email in the production process. A new feature will replace emails and other customer communication for job and order changes, and can be used for many types of workflows, including graphics services, wide format, special one-time job builds, and more.
Stay tuned!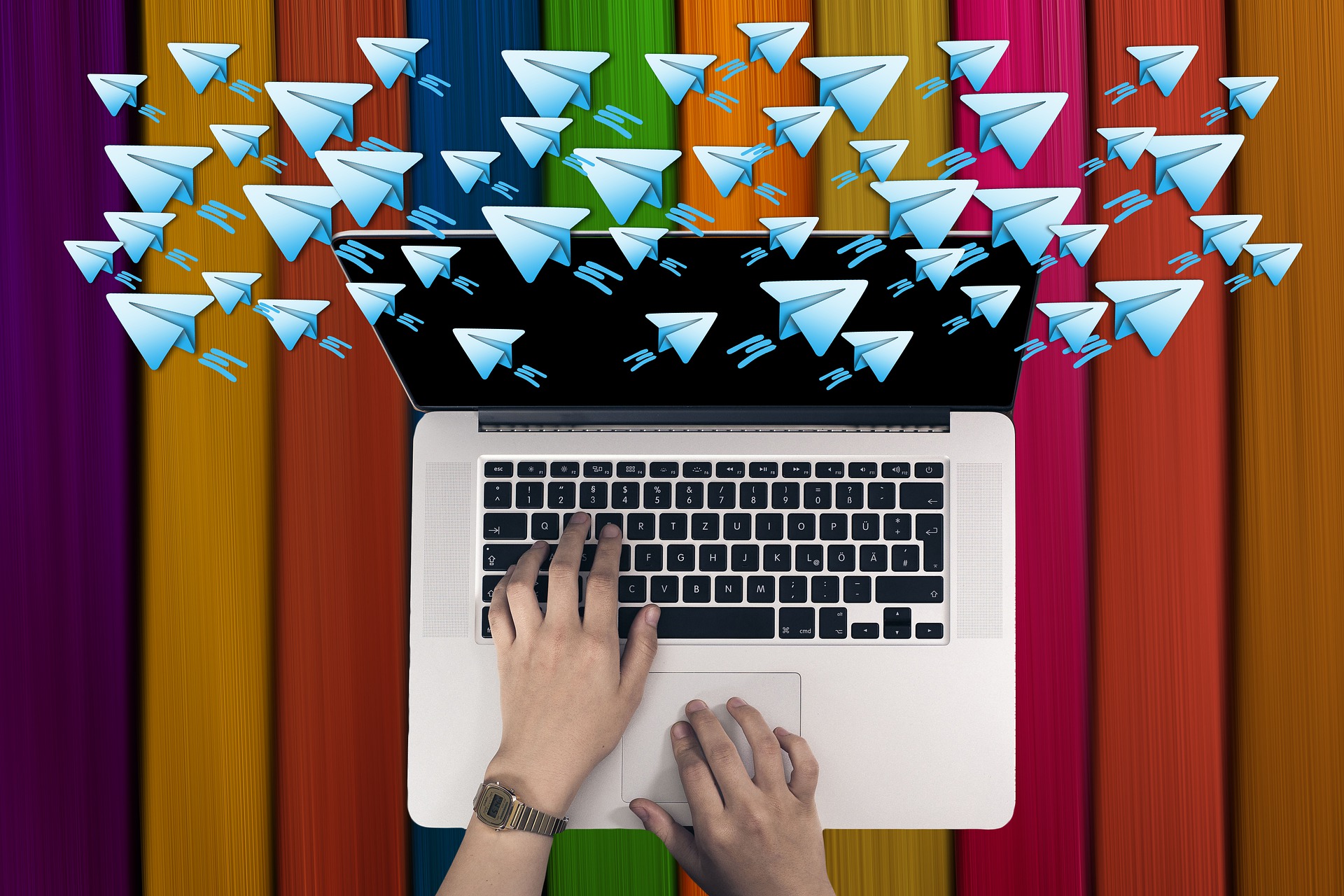 Begin the Path to Your Customer's Digital Transformation by Eliminating E-Mail
Your local RSA BDM can provide you with expertise and resources to help with your print shop customers' digital transformation, starting with in-plant Web to Print solutions that help them do away with e-mail for job orders.