Elisha Kasinskas
|
August 07, 2017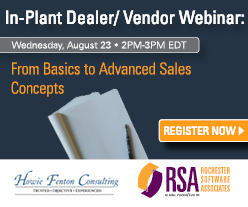 Access the recording of our webinar "In-Plant Dealer/Vendor Webinar: From Operations Basics to Advanced Sales Concepts" now in your RSA partner portal This webinar is part of our initiative "In-Plant Primer: From Operations Basics to Advanced Sales Concepts," to educate dealers, reps and owners and print equipment vendors about in-plant print centers. The one-hour webinar will cover six basic topics and some of the advanced topics we've covered in the series about this important market, as well as some research and example in-plants. Attend and learn from expert industry consultant, Howie Fenton:
The types of in-plants, their typical problems and who to engage in sales conversations
Technology changes, trends and their impact
Probing questions to ask to identify workflow solution opportunities
Operational and financial concerns, such as operating models
Terms and language to use and avoid-- and why
What's important for in-plant managers and administration about benefits and measuring performance
How software automation increases an in-plant's value for in-plant managers and C-Level executives.
Don't miss out- listen today!