Vince Tutino
|
October 18, 2016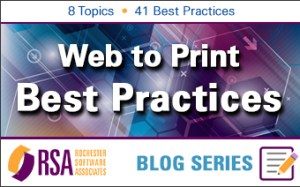 When you are changing from a paper or email-based method of sending jobs and work requests to the Print Center, it may be difficult for your user community to make the change to a Web-based system. Let's face it, people are naturally averse to changes, especially if they have been in their jobs for a long time and you are making a technology shift at the same time. In today's world of business, you can't keep doing things the same way and remain competitive or efficient. Depending on the demographics of your customer base, you will need to understand their concerns and assist users in the transition, too. This applies to the print shop staff as well as the people placing orders. But, don't start in the middle of our Web to Print Best Practices series; start from the beginning. Don't want to wait for the full series?
8 Ways to Increase Adoption Rates
Work as a coach to guide your staff and customers to a new way of working. While it may initially take some convincing, users will eventually acknowledge that this is a better workflow than what they were utilizing before.
Include your staff in the configuration process so that they feel they are part of the decisions and workflow options being considered. Be sure to keep an eye on decisions being made so that the staff does not make changes that will use the system sub-optimally or that will allow them to revert to past practices.
Involve critical stakeholders and users early in the process. Communicate how the system will have a positive impact on their work (faster turnaround times, fewer errors, higher quality, etc.). For example, Citrus College used a great procedure for involving users early in the process when they replaced a Web to print system that was not meeting their needs. Read the blog post or listen to the webinar replay to learn how they used this step (as well as numbers four and five below).
Getting key users as early advocates can help influence others.
Find out what's most important to your users and highlight these improvements.
Develop training materials that can be shared on internal websites and corporate communications. Provide some content for new employees/ users in places like student orientation packages or employee on-boarding to highlight your services and encourage them to use your print center.
Develop a marketing and promotional plan for internal customers. This is a great way to increase user adoption and customer satisfaction rates.
Hold regular training or informational sessions with customers and highlight ease of use and benefits to them (this is a great tip for new releases after implementation). Consider going out to your customers at the department or location level instead of holding a company-wide open house. Many of our customers have found this to be more effective than having customers come to the print shop. In the process, you may also hear and learn about the particular challenges in their environment. You know your organization best and what may be most appropriate for your customers.
Adoption rates will vary depending on a number of factors, but what we generally see is that you have moderate growth at first, followed by a larger spike as your users get used to the system and some new users find you for the first time. As your turnaround times shorten and your error rates drop, users will become more confident with your capabilities, and satisfaction and adoption rates should both increase. In my next "Web to Print Best Practices for In-plant Print Centers" article, I'll talk about pricing options and 4 pricing best practices for customers and Web to print systems.