Elisha Kasinskas
|
December 21, 2015
Marketing the print center is all about your customers… And, it's all about you. A good marketing plan engages your existing customers, entices prospects to move work into your shop, and explains who you are and what you do.
Want additional in-plant insights to build a better in-plant today? Sign up for our Quarterly Tips Newsletter.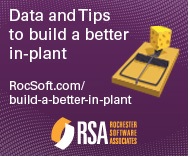 3 Tips to Create a Better Marketing Plan:
1. Engage, Entice and Explain
Engage your current customers. Make sure you market to these special friends with continual updates about your team and progress. They want to like you and know more about you. But they also want to be sure you are thinking about them and their needs. Make them feel valued with in person visits, phone calls, or personal thank you notes. In most organizations you can't spend money on gifts and lunches like your outside competitors. But, you can usually host a brown bag or group lunch that features discussions with local industry experts on pertinent subjects. Keep it small and personal. Market your personal concern.
Entice prospective and current customers into doing the same work with a small enhancement. Many of your customers have routine approaches because they have routine needs. They get pressed under deadlines and organizational red tape. At the same time, they would love to apply new technology and creativity. Pull together the key members of your team as a think tank to explore new approaches on behalf of your customers. Market your knowledge and expertise.
Explain yourself and your distinctive value propositions. Don't just be a print center; be THE print center for your customers and their needs. Every small and large customer needs to be included. Develop your own logo and print custom package labels that go out with every order. Include thank you cards in each box. Offer customization of services for departments that don't fit the normal organization guidelines. Be the experts at customizing online ordering and 'wow' your customers. Act in ways that show off your pizzazz. A little concern and smoothness go a long way. Market your value.
2. Be a Marketer Every Day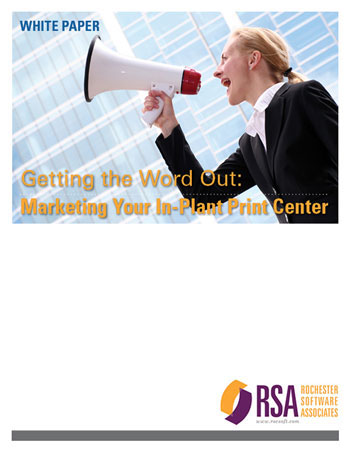 Logistics of marketing the in-plant include daily activities and events.
Marketing is an everyday activity. At every service touch, there is an opportunity to present your value well. Market yourself and your capabilities to your customers and prospects, with specific objectives, every day.
Daily marketing can include customer satisfaction survey cards or follow up emails and phone calls. Think of a feature or service you'd like to promote and work it into your service team's conversation, phone answering opener, email tagline, or hallway stand. Where do your customers and prospects interact with you most? Twitter, Facebook, website? Keep that spot fresh and lively!
Events can be tough to work into the overall organizational calendar, so your events should be purposeful and well-promoted. Make sure they are relevant, fun, timely, and specific. Host an open house after you add new equipment or introduce a new online feature. Make sure your team has mastered the product or service prior to interacting with customers, though. Prepare for each customer and prospect attending; plan a meeting time with them for open listening. A marketing event can be a great time to learn more about their needs that may not have surfaced during regular interactions.
3. Be Inclusive
Above all, have fun marketing. Involve your team. Include your customers and prospects in your marketing. You have a unique vested interest in their success; you are part of the same organization. Ask a press operator what they would like to say to a customer. Ask a department head what you can do to improve your service. Include those answers in your marketing plan. You have a great team, a great service, and a great product. Let others know.
Set marketing plan objectives.
Pull all of these tips together into an action plan to better market and grow your print center.
Marketing is objective driven, so set objectives and develop a practical and achievable approach appropriate to your organizational culture. Use these tips as a model, and you will have little problem succeeding.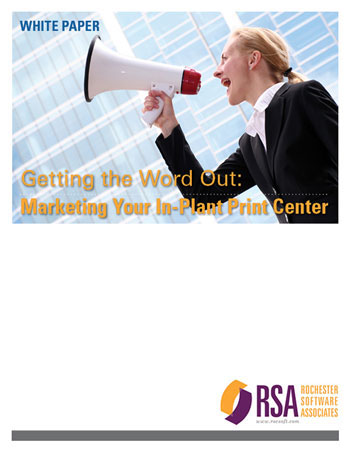 Want additional in-plant tips and ideas to build a better in-plant today?
Download our "Marketing Your In-Plant Print Center" white paper – with steps to help you build your marketing plan and examples from other in-plant print centers.