Elisha Kasinskas
|
January 02, 2014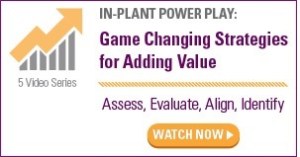 In this five video series, we provide a template for how an in-plant can meet today's challenges by increasing the value of the print center in their organization. Here, we showcase four top in-plants that are serving more customers, capturing more work, and positioning themselves as a strategic asset rather than a cost center.
Five Video Series Outlines and Applies Steps In-Plants Can Take to Add Value Watch the five video series and learn how to add strategic value by:
Assessing your position in your organization
Evaluating your customer base and services
Aligning your goals and objectives with the organization's
Identifying key actions other in-plants have taken
 View the case study videos for specific examples of how four top in-plants in four verticals are applying the above steps to add strategic value:
Health Care : University of Pittsburgh Medical Center (UPMC) is saving millions
Financial Services : Transamerica is driving sales with decreased turnaround, with the application paying for itself in one year
K-12 : Blue Valley Schools is saving almost 50,000 teacher hours annually, has increased volume 735% without adding staff and saves $100k in chargebacks per year
Higher Education : Fox Valley Technical College is increasing volume without increasing staff, with significant volume and customer satisfaction increases.
View the Entire In-Plant Leader Video Series
Interested in other topics? View the entire in-plant print center leader video series to watch top in-plant printers share their secrets of success, discuss how they add value, grow volume, automate, save and more.
Learn more by downloading the related whitepaper: "In-Plants: Do You Know Where Your Print Is?"