Elisha Kasinskas
|
November 05, 2012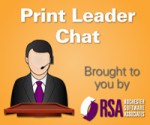 At the IPMA annual conference last June, I was struck by the power of in-plant leaders learning from each other when they were together. I asked some of the in-plant leaders attending if they would find value in a short call every other month where they could "meet" informally, with one print center manager leading a particular topic for that call. The answer was "yes." "In-Plant Print Leader Chat" was born.
In-plant Managers Share Their Expertise and Experiences to Help Other In-Plants
This informal audio-only call is designed as a quick way for in-plant leaders to share information and help other busy in-plants learn from these leaders in an intimate setting. 
Budgeting and Talking to Finance

Just in time for budget season, the topic of this session is: "In-Plant Budgeting, Financials and talking to Finance,"  led by Gene Voelker, Manager Supply Chain Business Services at Parkview Health in Fort Wayne, IN. Gene answers questions submitted ahead of time about in-plant budgeting. With a background in Finance, Gene has a unique and valuable perspective that will benefit any in-plant, particularly in the budget season. You may remember Gene from his in-plant panelist appearance at GRAPH EXPO.
Listen to this Print Leader Chat Episode with Gene Voelker