Tim Kelly
|
November 10, 2010
This four-article series looks at major trends that the corporate or in-plant print center needs to successfully address to succeed in 2011 and beyond. In this series, we will highlight key factors driving these trends and how some in-plants have successfully implemented solutions to address the challenges.
The trends include: the necessity of marketing the print center, print center convergence to form one corporate print center, making it easier to work with the print center than local suppliers like office supply super stores, and continually improving workflow to meet ever-increasing customer demands for shorter print runs and faster turn-around.
This article focuses on the new necessity of marketing the in-plant to drive business, increase efficiencies for the organization, and help stop leakage to outside providers.
Marketing the in-plant print center – a new necessity
In this age of outsourcing and expense reductions, marketing the cost-effective, efficient in-plant/CRD is a business necessity, it's no longer enough to just react to changes in the industry, environment, or organization.
Coupled with increasing competition and a battery of choices, internal customers can be just a mouse click away from taking their print business outside. However, in-plants have an advantage over outside providers, and strategically employing these advantages with good old-fashioned marketing and selling principles can be the difference between surviving and thriving.
An internal print center knows an organization: its business rules, objectives, current initiatives, systems to integrate with, and the departments that drive volume. The internal print center also often knows who outside vendors are in the value chain or who compete for work. This information can be difficult or time-consuming for an outside vendor to uncover, making it a natural barrier to entry. But merely possessing this information is not the key. Acting on the intelligence, proactively seeking out additional business and efficiencies by leveraging this knowledge and applying it to the current critical business issues are the keys to successful internal print center marketing. Assuming you will get the business by virtue of proximity is an assumption of the past.
As a corporate print center manager, marketing may not be your area of expertise. Here are some simple actions that you can take to get started marketing your print center:
External market assessment—What trends are you seeing in your outside competitors? What technologies are being used and how might those technologies be adopted inside your organization? What services are being offered? How does their pricing compare to yours? What compels departments to use outside sources? Which of these services, technologies, and intangibles do you feel that you can do better?
Internal Assessment—What are your strengths and weaknesses? How can you leverage your strengths and minimize your weaknesses? As an internal organization, what integration or workflow efficiencies can you deliver that an external organization cannot? What jobs MUST stay in house (confidentiality, competitive advantage)? Are their internal advocates, reference customers, and influencers who can help you promote your center and your services?
Understand your customers—Survey your customers to understand who they are, what their needs are (type of jobs, turn around, efficiency, costs/pricing, job frequency and volume), and what is important to them. Why do customers use or not use your services? What, exactly do they see as their current alternatives—what is being outsourced, and why? What percentage of the company's total print is being outsourced? Is this the most economical alternative for the organization? What can you do to get ALL of their business (if that is your goal)? Call on your top customers for each service as any sales organization would.
Our most successful customers conducts quarterly or annual meetings with users, understanding their needs and issues, and offering training for new users or to roll 
out new software features.  This undertaking builds key relationships and fosters open lines of cross-department communication.
Customer segmentation—After surveying your customers, you can segment them, creating segment-specific marketing and sales activities. Determine if you want to and should be everything to all users, or if you want to be a niche player and outsource the work that does not make sense for your organization.
Add value and offerings—By understanding outside offerings, your internal users, and what is important to them, you are in a position to capitalize on the areas of best opportunity to add value. Value can be created for existing services in the form of turn-around, delivery, and process for new job creation; and by offering new services.
Users may also place value on your print center if you partner with them to create efficiencies, both in workflow and in integration with other internal and external processes and systems. Another of our customers worked with us to help Marketing and Purchasing integrate their current software so orders can be placed through the purchasing system directly to the print center. This is saving the company considerable dollars and time and has reduced turn-around due to workflow efficiencies.
Value can also come in the form of training and other activities your print center provides to help users fully leverage the investment the company has made in print center technology and provide a more robust user experience.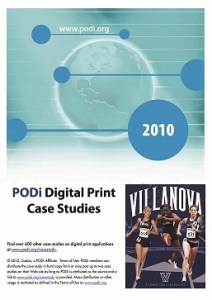 Turn budget-consciousness into an advantage— Though it is not marketing per se, "carrying the corporate flag" by supporting company-wide initiatives is a positive way to demonstrate the print center's ability to contribute to the organization. Just as the print center may be worried about controlling costs, or working with fewer resources, there is a very high probability that those concerns are shared across the enterprise. Marketers for example, would appreciate partnering with an internal resource that meets their needs at a cost lower than going outside, or that can help creatively meet their challenges.
By taking these steps, you should be well on your way to successfully addressing the first trend. Marketing will help your print center sustain and increase business, generate positive internal publicity, and create awareness of the services that you offer and how you can contribute to the organization's overall success.
Our next article in this four article series will discuss trends that have lead to the convergence of the in-plant print center and some customer examples. No longer just a copy center or print shop, these organizations have matured and are growing, or at least changing, due to convergence of printing inside enterprises, changing printing technology to digital and digital workflows, and leveraging transactional data center printing.