Elisha Kasinskas
|
January 09, 2015
Watch this short video to avoid printing equipment and technology issues as you add or replace these items in your print center. Part of the "War Stories, Wise Ideas and Q &A" in-plant panel session at GRAPH EXPO, this video is the ninth in an 11 article series, covering key takeaways from the 10 topics the panel covered.
Equipment & Technology In-Sights from 3 In-Plant Managers Plan to Avoid Equipment Issues and Increase Print Output
These in-plant panelists talk candidly about their experiences underestimating demand, addressing odor considerations, protecting legacy intellectual property and software to increase print volume. Listen to learn how:
One in-plant is upgrading its UV coater after purchasing a less expensive model that created issues
Another in-house printer is seeking a high speed plotter and scanner to protect historical documents made possible, in part, by their laminating and mounting success
The State of Wisconsin is exploring an electronic mail software solution that potentially could increase their print volume
Watch as industry professionals Tim Smith, State of Wisconsin: Publishing & Distribution, Staci Hill, Freese and Nichols, and Ron Balderson, Navy Federal Credit Union discuss the lessons learned and thoughts about new equipment and software.
As you budget for next year, you may want to refer to want to the December 5th post with equipment insights that have helped justify the in-plant and bring in new work.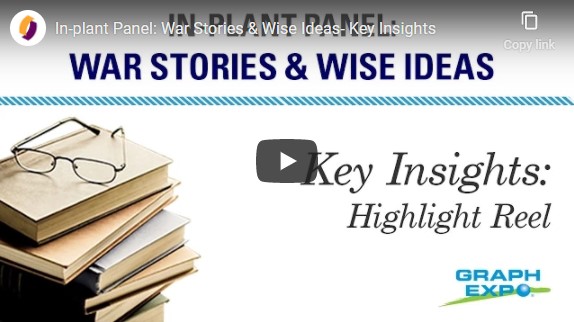 Why wait? Watch the video series now.
In-plant print center leaders in government, banking and professional services share war stories, wise ideas, and discuss equipment, insourcing, managed services, marketing, new products and more.