Elisha Kasinskas
|
December 11, 2014
Want to get the most out of your contracts and managed services vendor agreements? Watch this short video of three experienced print center managers as part of the "War Stories, Wise Ideas and Q&A" in-plant panel session at GRAPH EXPO. Get numerous insights in this exclusive series of short session videos. This is the seventh article in an 11-article series, which covers key takeaways from the 10 topics the panel covered.
Contracting & Managed Services Ideas from Three In-Plant Managers
Motivate Vendors to Engage in Your Productivity & Assist with Aging Equipment
These in-plant print center leaders share great tactical ideas for motivating vendors to be more effective players in the organization's efficiency and supporting efforts to win large government contracts with proposals generated on older equipment that still produces high quality output.
Listen to learn how:
One in-plant is challenging how its current managed services vendor is incented and conducting a lean analysis to create a new contract that increases organizational effectiveness
Another in-house printer uses cross functional teams to bid its fleet contract and gain vendor support for equipment as it ages
Navy Federal Credit Union uses five buyers to coordinate large direct mail projects and manage internal and outsourced work.
Watch as industry professionals Tim Smith, State of Wisconsin: Publishing & Distribution, Staci Hill, Freese and Nichols, and Ron Balderson, Navy Federal Credit Union, discuss how they approach their vendor contacts to get what they want and need for their organization to be effective. As you budget for next year, you'll want to read last week's post with equipment insights that have helped justify the in-plant and bring in new work, and next week's post about new technology and equipment these in-plant managers are considering.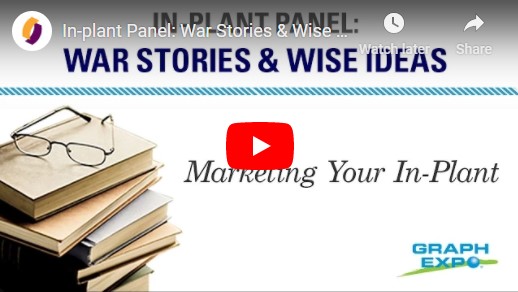 Read the Series For Even More In-Plant Insights
Get information from these in-plant and corporate print center leaders in government, banking and professional services that will help you better manage your in-house print center. Why wait? Watch the video series now.