Elisha Kasinskas
|
July 14, 2016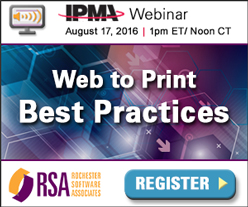 The 600+ member-led In-Plant Printing and Mailing Association (IPMA), dedicated to in-plant printing and mailing organizations is hosting a webinar sponsored by RSA called "Web to Print Best Practices" on Wednesday, August 17, 2016 at 1pm ET/ Noon CT/ 10am PT. Normally reserved for member in-plants only, RSA is also presenting this session, and the Association is allowing other in-plants and RSA partners access to this webinar for free, courtesy of RSA. Live only- no recording unless you are an IPMA in-plant member.
In this informative webinar, I'll share best practices gleaned from numerous customers and many installations spanning over a decade. I've been involved in software for many years, and as the Senior Product Manager for WebCRD, RSA's in-plant Web to print software, I've seen a lot of implementations and roll outs- some more successful than others. We wanted to present this webinar, a companion RSA blog series (starting soon) and a lunch session at Graph Expo 2016 to give in-plant print shop managers and staff and our partners practical information that can help them implement, configure and use a Web to print system and realize its maximum benefits.
Topics in the webinar will include:
Installation
Roll out
Marketing
User adoption
Pricing
Production and automation
Expanding your reach and influence
Things to consider
If you are considering purchasing Web to Print, implementing now, or already up and running with Web to print, there will be something in the webinar for you.
In the webinar we will also provide more details about the topics we'll cover in our blog series post webinar, and offer a free white paper on the" Top 5 Web to Print Success Factors" to all registered attendees.