Elisha Kasinskas
|
June 05, 2023
Conferences and trade shows are back and more popular than ever. This year's In-plant Printing and Mailing Association (IPMA) conference kicks off with near record registration June 4-8 in Bonita Springs, Florida. It's the world's largest gathering of in-plant, in-house and corporate print centers.
RSA has long been a supporter of in-plant print centers and the In-Plant Printing and Mailing Association. This year we'll be listening, learning, sharing successes and discussing how our solutions are moving workflow forward to go beyond all limits. 
A number of RSA customers will be presenting in several sessions, including: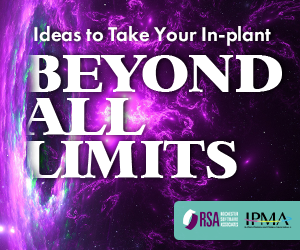 "

Ideas to

Take Your In-plant Beyond All Limits

panel session

"

- three in-plant

print center

managers

in government,

K-12 and higher education

will share 12 ideas

they

use to take their operations beyond all limits.

We've

compiled two dozen of their

additional

ideas in a

free

Idea Boo

k

for

a total of 30+

of

t

heir exclusive ideas in four topics:

repositioning, growth, lessons from the outside and going paperless.

Download the

Beyond All Limits

Idea

B

ook

today

.

Session video will be available soon.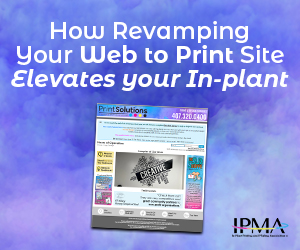 In the session

"How Revamping Your Web to Print Site Elevates Your In-plant,"

hear how

multiple-product K-12 customer

Seminole County Public Schools has revamped their

WebCRD

 

Web to Print site as part of their goals to promote the department and their offerings, create a go-to-place for people to find them, and teach customers how to send them work more easily. To date, their efforts have increased revenue 40% and quotes 300%. Video from the session will be available soon, and we'll have a guest blog post from the print center's manager with additional details this summer.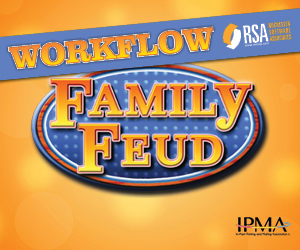 RSA's always entertaining game

show session

features

the return of

"

Workflow Family

Feud

." 

RSA education customers (team Educators) will compete against the

government "family

,

"

answering questions about workflow

.

Conference attendees play along, learn

,

and test their workflow knowledge

. 
During the vendor fair and throughout the conference, we'll be talking with attendees about moving workflow forward- from transactional and datacenter to prepress, inkjet, wide format and more with RSA solutions to automate workflow and increase production print efficiency. 
Of note is how closely aligned keynote speaker Steve Gilliland's session topic Cherry on Top is with RSA's value proposition of connectivity across all major production OEM presses to improve efficiency, deliver value in what we do, and boost productivity. This alignment is a "cherry on top" to make this a conference worth watching and following as we share daily conference highlights on RSA's YouTube channel and LinkedIn pages.