Elisha Kasinskas
|
November 07, 2013
This article is the third in a series of nine short insightful videos from the PRINT 13 in-plant panel session, "In-plant Tell All Success Stories from the Field." In this video series, four in-plant leaders discuss: why they are successful, what didn't work, how they are demonstrating value, their challenges, their advice for other in-plants, and more.
What Has Most Impacted the Success of These In-Plants?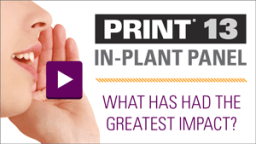 In this short video, in-plant panelists: Tom Rorhbach, Progressive; Abbas Badani, Penn State; Mike Lincoln, State of Colorado; and Garry Boytos, University of Texas Health Sciences San Antonio (UTHSCSA) talk about the items that have had the highest impact on their success. Indeed, the panelists thoughts are as diverse as they are. Partnering with key departments such as IT, Business Units and Procurement to build relationships and listen to needs is, however, common ground for these in-house print center leaders. Other items the panelists cite include: leveraging all available resources, focusing on solvable customer issues, and the creation of profit centers that help fund other needed areas---an idea from straightforward Garry Boytos that caught the attention of the audience at PRINT 13. Watch to hear more from Progressive, Penn State, State of Colorado and UTHSCSA, to gain valuable insight and ideas from these leaders.     
Watch this Blog for the Continuing Panel Series, or View the Entire In-Plant Print Center Leader Video Series
Learn more in the coming weeks in these short videos from the in-plant panel of these Insurance, Higher Education, Government and Healthcare in-house print center leaders. Interested in other topics? View the entire in-plant print center leader video series collection of nearly 50 videos to watch top in-plant prints share their secrets of success, discuss how they add value, grow volume, automate, save and more.