Elisha Kasinskas
|
November 01, 2013
This article is the second of a series of nine short insightful videos from the PRINT 13 in-plant panel session, "In-plant Tell All Success Stories from the Field." In this video series, featuring four in-plant leaders, they discuss: why they are successful, what didn't work, how they are demonstrating value, their challenges, their advice for other in-plants, and more.
What Has Contributed to the Success of These In-Plants and How Do They Define Success?
In this short video, in-plant panelists — Tom Rorhbach, Progressive; Abbas Badani, Penn State; Mike Lincoln, State of Colorado; and Garry Boytos, University of Texas Health Sciences San Antonio — share what has contributed to the success of their particular in-plant as well as how they define it.
The key reasons cited for success include: supporting and aligning with the core business of the parent entity; creating customer preference by providing creative or new solutions that customers may not have thought of; and executing well and on time. Other reasons panelists mentioned the ability to forge strong proactive business stakeholder relationships and the idea that "success is a state of mind."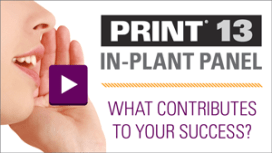 Watch this Blog for the Continuing Panel Series, or View the Entire In-Plant Print Center Leader Video Series
Learn more in these short videos from the in-plant panel of these Insurance, Higher Education, Government and Healthcare in-house print center leaders.
Interested in other topics? View the entire in-plant print center leader video series collection of nearly 50 videos to watch top in-plant prints share their secrets of success, discuss how they add value, grow volume, automate, save and more.