Howie Fenton
|
June 13, 2019
Blog #4 of our Customer Experience Series.
As we discussed in the previous articles in this customer experience series, the customer's ecommerce experience is becoming a larger and larger aspect of the overall customer experience. An example often cited is the "Amazon Experience." An article in Forbes said, "Amazon may provide customers with a different shopping experience compared to brick and mortar, but it is an experience nevertheless which generates loyalty and repeat visits from shoppers. Clearly, Amazon has redefined the modern-day definition of a retail experience with shoppers citing transparency in pricing and product information, access to customer reviews they can trust, clear communication regarding orders/shipping status, as well as occasions that evoke a Nordstrom-esque level of amazing."
As mentioned in the second article in this series, "What We Can Learn from Amazon to Create a Better Customer Experience," Amazon is redefining what customers expect from all ecommerce sites. Customers like the reassurance of knowing where their jobs are in the ordering process and that their orders will be delivered on time. Many people rave about emails telling them their order has been received, that the order has shipped with the tracking number, and one of the latest features, seeing the location of the delivery truck in your neighborhood the same way you can see your Uber and Lyft drivers approach.
While the delivery truck expectation may be unrealistic, all the rest are not. Due to the Amazon experience customer's expectations have increased and more and more customers expect an easy user-friendly e-commerce site and competitive prices. Those that are disappointed make their feelings heard loudly and to a wide audience. In the graph below we see those results. Customer complaints of service and price reached the administrative offices of one parent company and they requested an evaluation.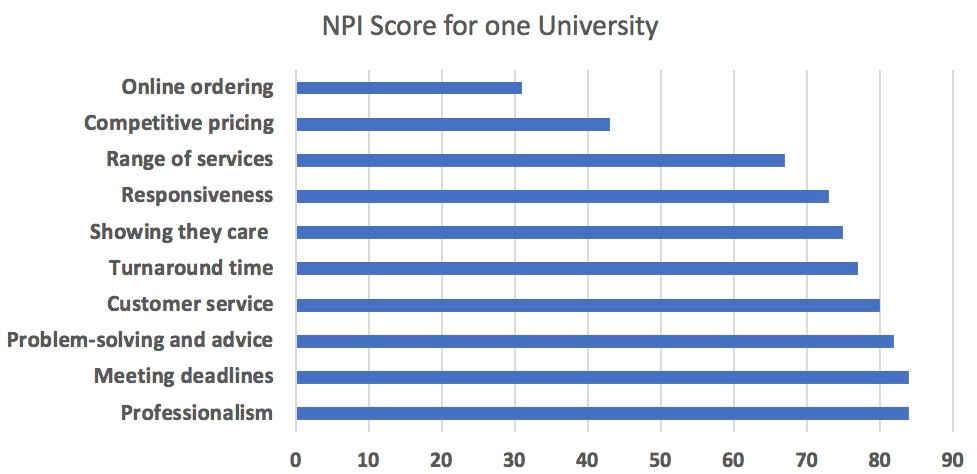 In this survey we used the NPI score, which is a new survey analysis tool that has gained a lot of attention known as net promoter index. This is a measure known as the customer loyalty metric developed by Bain & Company. It was first introduced in the Harvard Business Review article, "The One Number You Need to Grow." According to our in-plant research, NPI scores above 77 are considered world class, scores between 70-76 are "as good as the competition" and scores below 69 mean you have a problem. It is not unusual to find that companies score well for scores for 8 or 9 KPIs. Believe it or not it only takes one or two bad scores (less than 69) to see that you have a problem.
The good news about this particular in-plant is that they took our advice and upgraded their Web to print system, which helped them reduce manufacturing costs. In this case, the root cause of both these complaints was that their online ordering system was a workflow issue.
What is the Cost of Poor Web to print Workflow?
In the last article entitled, "What's the Cost of a Bad Customer Experience to an In-Plant?" we shared our experience that the average in-plant that scores poorly on our customer satisfaction surveys in 1 or 2 KPIs (Key Performance Indicators) lose an average of $90,000/year. But that is only one part of the total cost.
According to the latest research from Keypoint Intelligence |InfoTrends, the cost based on savings from online ordering is $110,739. Combining the hard costs of customers sending work other places and the soft costs of due to inefficient workflows brings the total cost of a bad customer experience to $200,000.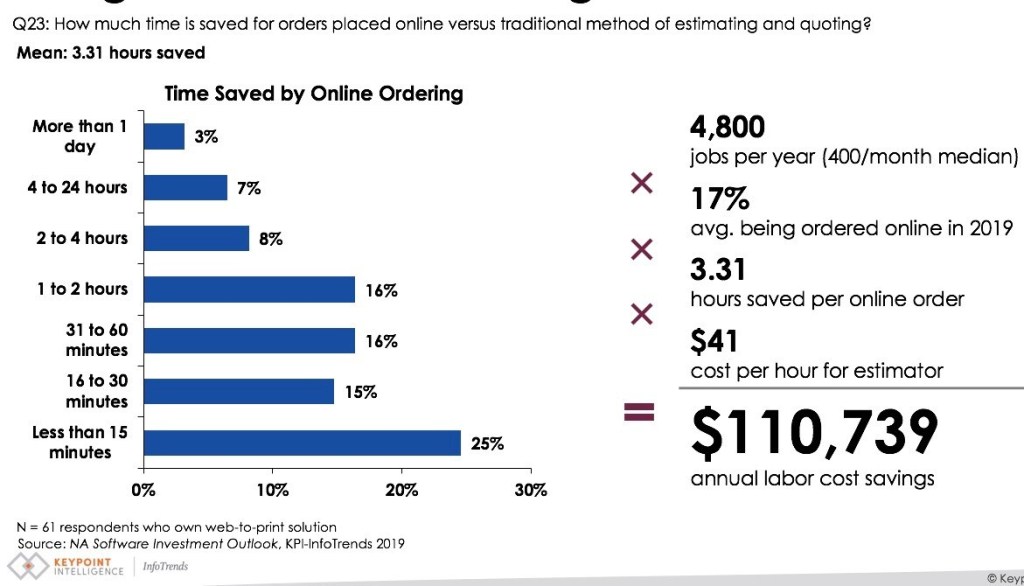 Summary
There are many factors that will impact the total cost of poor customer experience in the print and mail areas of an in-plant operation. The two discussed are the soft costs of a bad workflow estimated by Keypoint Intelligence|InfoTrends of $110,000 and the hard costs we estimated for a small to midsize in-plant due to less work from customers of $90,000. Other costs that could be included include increased equipment and running costs for slower departmental fleet printers and losses associated with un-optimized mailing and shipping costs.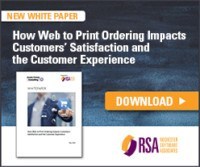 Download Our White Paper to Learn More.
We will continue our Customer Experience series next month. In the meantime, download our new white paper, "How Web to Print Ordering Impacts Customers' Satisfaction and the Customer Experience" to learn the answers to five customer experience questions, nine lessons from Amazon and three lessons to apply to in-plant printing.