Howie Fenton
|
May 10, 2019
Blog #3 of Customer Experience Series
You will be shocked when you hear the estimated costs to companies that have suffered from a bad customer experience. While the numbers are based on big companies selling consumer products, in-plants should be asking what the potential cost of a bad customer experience is for a typical in-plant. In this third article in our series about customer experience, we will estimate the cost to in-plants.
Before talking about the different costs associated with the customer experience for in-plants, we should define how much of the customer experience as used in the commercial world is relevant to the in-plant world. The graphic below from rebrandly.com offers one view of the different aspects of the customer experience.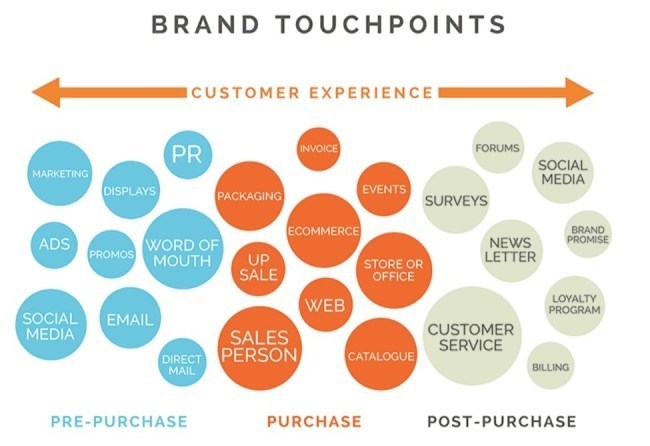 Most of these options such as marketing, displays, PR, ads, sales person, direct mail, social media, catalogue, newsletters, loyalty program, etc. are typically not underthe control of the in-plant. If you pare down the options that are controlled by the in-plant, the customer experience looks more like what is traditionally defined as customer satisfaction. So, for the purposes of this article we will use the two synonymously.
According to the experts at Salesforce.com, the effects of bad customer service are disastrous. They quote an American Express survey, which found that 78% of customers ended a business relationship because of poor customer service and estimate that in the United States, $84 billion in revenue is lost annually due to poor encounters with sales associates, with 61% of consumers switching to competitors. Others claim that those numbers are too low. According to TextRequest.com, the cost is $537 billion.
We have surveyed thousands of in-plant customers and found that some are fans and others are not. If allowed– and sometimes even when they are not– those customers who are not fans will take their work elsewhere. We worked with one large university in the Northwest where the Enrollment Department went against university policy and outsourced their print work, resulting in over a $200,000 loss in print and mail revenue to the university's in-plant.
The Cost of Poor Customer Satisfaction
As mentioned earlier, for the typical in-plant service provider, the attributes of Customer Experience are limited to what we traditionally called customer satisfaction. Seminars on this subject have been available for decades. If you have attended any of those seminars, you may have heard the traditional questions about cost:
How much more does it cost to attract a new customer than to keep an existing one?
If you resolve issues on the spot, what percentage of customers will return?
What percentage of customers do not complain?
For how many years will an average unhappy customer remember the issue?
For every complaint, how many others have the same complaint?
If you have never heard these statistics before, you will be surprised at the answers. In fact, before you look at the answers below, take a second and write down your answers on a piece of paper. When you're done, here are the answers:
It costs six times more to attract a new customer than to keep an existing customer.
If an issue is resolved on the spot, 95% of those customers will continue ordering.
Ninety-seven percent of customers do not complain, even when they are unhappy.
The average unhappy customer will remember for 23 years.
For every complaint that's lodged, there are likely up to 25 more people with the same complaint.
The first time I heard these statistics, I did not believe them. Who remains unhappy about an experience for 23 years? But keep this in mind when you have group of people deciding where to eat. I often hear stories of a bad experience such as, "I will never eat there again," or, "I had a bad experience with that restaurant and decided I would never go there again." Ask when that occurred, and you may be surprised that it was a decade ago or longer.
The Cost to a Typical In-Plant
Our experience working with in-plants follows closely the overall market where most in-plants are small to medium size. In the PREMIR Study, "Digital Printing Technologies Influence on U.S. In-Plant Printing Market" that I worked on with IDC in 2016, we estimated that 88% of in-plants staff 19 people or less.
We also work with some larger in-plants including The State of Washington, Amazon, Physicians Mutual, World Bank, University of Texas at Austin, Houston ISD, and Oregon State University. However, just as the annual In-Plant Impressions listings of largest in-plants has shown for the last few years, after the top 30 in-plants, all the rest are $5M in revenue or less. Therefore, any estimates from our work are skewed toward smaller or average size in-plants which have staff of less than 19, providing services of $4 million/year.
In our surveys with in-plant customers, the average loss of work because of poor customer satisfaction is about $90,000/yr. In the next blog we will identify poor satisfaction in customer surveys. For now, however it is important to recognize that in-plant size may impact this loss.  We have never tried to quantify the loss of work to the size of the in-plant size, but it is possible a linear relationship exists between loss of work and the in-plant. If that is true, the losses would look something like this.

Several Cost-Related Problems
The total cost of a bad customer experience or low customer satisfaction to the parent company of an in-plant is much more than simply the loss of volume.
Customers without purchasing experience may buy print and mail services without working through a formal bidding process resulting in much higher costs to the parent organization.
Some individual departments purchase low- to mid-sized production equipment and do it themselves. This results in two issues:

The loss of work for the in-plant

Increased costs to the parent company to produce with slower equipment. These issues are often never recognized because most don't compare the change in-plant demand to the volume changes to the fleet. In one university, we found a direct correlation between in-plant loss of volume and increases in fleet pages and outsourcing purchases.
Finally, the root cause of the low customer satisfaction may be the result of a bad workflow which results in higher costs to produce. In those cases, the total cost of that poor customer experience is combination of the loss or work from customers PLUS the additional cost to manufacture. We'll discuss this in article four of our customer experience series.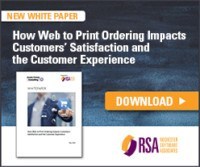 Download our New White Paper
To read our entire Customer Experience series, download our new white paper,  "How Web to Print Ordering Impacts Customers' Satisfaction and the Customer Experience" to learn the answers to five customer experience questions, nine lessons from Amazon and three lessons to apply to in-plant printing.