Howie Fenton
|
April 19, 2019
The role of e-Commerce in the customer experience is increasing as more customers demand service like world class e-commerce sites such as Amazon.
This is the second in a series of articles that talk about the role of software automation in enhancing superior customer service as well as the CX. Our first article focused on two common mistakes print providers often make in understanding the customer experience.
The demand for more convenient service based on new technology is not new and the advantages of new technology are not always immediate. When ATMs first became available the adoption was slow but today it would be unheard of to use a bank without ATMs. The is also true of e-commerce, which was slow to garner acceptance but had an impact that is exceeding all predictions.
Considering the increasing importance of e-commerce and the focus of big business to improve e-commerce, you may be surprised to learn that customer's satisfaction with their shopping / buying experience has been declining. According to the 2018 – 2019 American Customer Satisfaction Index (ACSI) survey, over 300,000 customers reported that their satisfaction with their shopping experience declined for the second year in a row.
One possible reason is the higher expectations created by leading e-commerce sites which raise the bar for excellence, which some call the "Amazon Experience". We first heard about this a decade ago while working with one of the pizza franchises which was unsuccessful in motivating customers to place online orders. When asked, customers described their dissatisfaction with the website in pains taking detail, often comparing it to Amazon or eBay. In fact, some simply said they wanted to order pizza with the same ease as ordering from Amazon.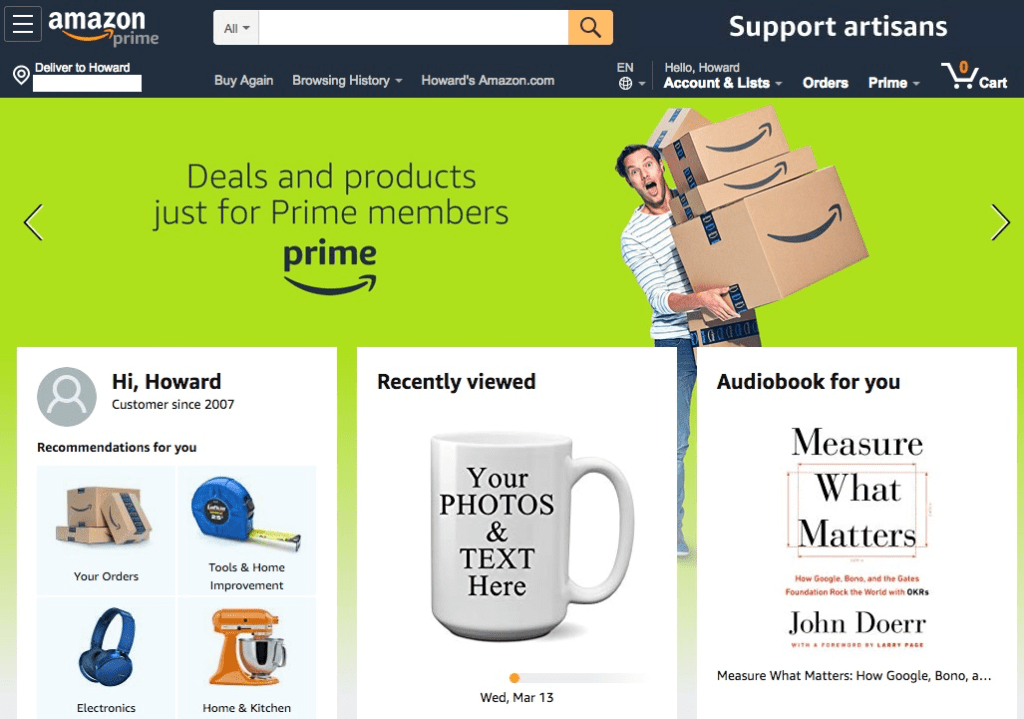 9 Lessons Learned From Amazon
The obvious question is what can we learn from Amazon to help us with our business?
Personalization. One of the first things I notice when I log in is a personal greeting "Hello Howard". Automatically I know that I am poised to order quickly and easily because my Prime Status, credit card and shipping address are already stored.
Easy reordering options. Next, I see the easy reordering options such as "Buy Again", Browsing History" and "Howard's Amazon". Here I am reminded that I need to reorder something. Next, I am shown today's deals with products I have purchased or browsed before that are on sale.
Search bar. All too often sites don't make the search option easy to find. I have to look for the search icon which is often a small magnifying glass and click on it to get the search option to open so I could type in the search terms.
A picture is worth a thousand words. Once I can see the list of products, I see thumbnail pictures that I can enlarge to see if it is the right product.
Fast navigation. Rarely do I find unresponsive pages in Amazon. Even pages with pictures refresh quickly. You can also see the path you have followed (called a breadcrumb) and can click anywhere along that path.
Transparent pricing. Pricing is clear, and if you add to the order such as adding more memory or a larger hard disk to laptop, the price updates.
Ordering options. You can always "add to your cart", save the product to easily access later and see different shipping options and prices.
Tracking. Once an order is placed you get emails for different milestones such as "order received", order shipped" and tracking option to see where the package is. Lately you can also see where the truck is– much like watching your Uber driver approach.
Help. There is always an option on top to email or call someone.
3 Lessons We Can Apply to the Printing Business
Easy reordering. Your most important customers are those that frequently order. You want to improve the customer experience the most for your best customers.
Transparent pricing. One of the most frequent complaints we hear from customers involves pricing. They complain of surprises when they receive invoices and they don't know how prices are calculated. More then one in-plant we worked with was nearly closed because the customers were frustrated at the lack of transparency in pricing. Make prices transparent.
Friendly user interface. I combine several of these features (thumbnails and enlarged product pictures, search, accessible help, and easy navigation) together and call them aspects of a friendly user interface. It is not hard to figure out how easy your site is to navigate, simply watch users. If you hear them grumbling, complaining or cursing you know it's not easy. Make it easy to find what they are looking for.
4 E-commerce Lessons To Learn
The bar for excellent customer satisfaction and customer experience gets higher as technology makes communication and interactions more convenient. As the e-commerce bar is raised by leaders in other industries, customer expectations increase and those that don't meet those expectations see declining satisfaction scores like we are seeing in the ACSI scores. To keep customers satisfied and to insure high customer experience scores, everyone needs to learn the lessons of leading e-commerce sites. The important lessons for the printing industry are:
Keep your best customers happy by making reordering as simple as possible
Don't let pricing become an issue- make it completely transparent
Make the site easy to navigate with images, search and easy navigation
Watch customers navigate your site and learn how to improve it.
Our next article in our customer experience series about the role of software and software automation in the customer experience will look at how a bad online customer experience can impact you and how to avoid making a costly mistake.