Elisha Kasinskas
|
June 22, 2021
Defining Workflow
While no model is totally inclusive, based on our calculations, a shop with 125 jobs per week could be saving over $118,000 annually just in time savings by automating some of the steps in production by using RSA's WebCRD Web to Print. 
But before you can more fully quantify the value of workflow automation for your shop, let's take a step back and first define what workflow automation is. Workflow automation refers to the design, execution, and automation of processes based on workflow rules where human tasks, data or files are routed between people or systems based on pre-defined business rules.
In Web to Print, workflow automation can take several forms, including:
Production automation of common tasks such as: prepress, releasing/queueing jobs to printing and finishing, identifying jobs that need attention, moving jobs to other statuses based on any number of parameters all without a anyone manually reviewing the jobs.
Customer ordering automation such as automating ordering choices, providing instant estimates, and applying billing and shipping based on the user's account preferences.
 A Changing Landscape and the Misalignment with Customer Preferences
Often, the value of automation using workflow software is only based on time savings. There also is value in overcoming some of these current challenges and industry trends you face:
Attracting and retaining customers
Handling more short run jobs and faster turnaround times
Meeting higher customer expectations (The Amazon effect) and improving the customer experience
Increasing the efficiency of getting jobs into the shop
Reducing costs and manual staff efforts
Capturing work going outside and addressing competition and outsourcing threats
By optimizing and automating your workflow you can address many of these challenges and trends.
Start by documenting and quantifying the steps in your workflow and the production process. You can't control what you can't measure. The value of this exercise is that it puts you on a path to control your workflow, not the other way around.
Automating workflow creates value for your shop and your customers too, but research from Keypoint Intelligence and others show that while the use of workflow automation is increasing, only about 50% of those surveyed have a partially or fully automated workflow.
Keypoint Intelligence's "2021 North American Production Software Investment Outlook" study found that a staggering 83% of consumers note they will use Web to Print more due to the pandemic and the desire to self-serve, but their research shows that more orders are placed by email than Web to Print and nearly half of in-plants (48%) still don't offer online ordering.
If you don't offer customers the convenient online ordering experience they want, they will go elsewhere.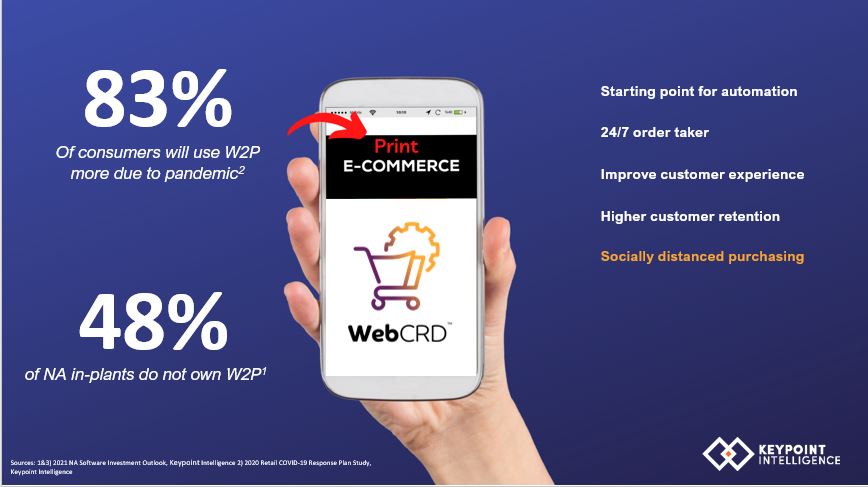 Where to Look for Savings in the Automation Process
The primary focus in any shop is on the printers and equipment, and there are a lot of reasons for this. But studies show that a lot of costs- and many opportunities for savings- are locked inside areas in the production, shipping, and billing processes where workflow automation comes into play.
Rather than looking for point solutions to automate small or specific points in the process, seek out integrated solutions that will further streamline and reduce steps in the process.
Begin with Web to Print, Kill E-mail Ordering and Keep Adding Automation Rules
Beginning with Web to Print and online submission will deliver big benefits for customers and your shop. You'll save time and labor for every job that you don't touch. RSA has customers who have automation rates as high 90%.
According to Keypoint Intelligence, 92% of in-plant printers still receive orders via e-mail with 37% of all orders placed via e-mail ("The 2021 North American Production Software Investment Outlook"). Keypoint estimates a minimum of $10,000 in annual time savings using Web to Print vs. e-mail and other submission methods and calls e-mail the "silent killer" of automation.
We recommend turning off e-mail, hard copy, and form job submission methods after adding a Web to Print solution.
Then, start using the WebCRD's AutoFlow™ automation rules to take automation further to offer faster turn times, reduced errors and costs, and increased efficiency. For example, use automation rules for common jobs like short run simple B/W and catalog jobs. RSA customers have reported producing 2x, 3x, even 4x the volume with the same staff after implementing an automation strategy.
Add Integrated Prepress Software for Automation and Optimization
Poorly created files add touches, take time, and can cause processing and production issues. Getting more print-ready jobs into your shop and reducing the downstream manual manipulations can provide significant value to your shop.
In Keypoint's recent research, study respondents estimated a yearly financial benefit of over $20,000 from automating file conversion and optimization. Preflighting, like that offered by RSA's Preflight Pro, can identify and correct many issues, but page editing or file restructuring might also be needed using prepress software like RSA's ReadyPrint.
Keypoint's research also found that while automatic job creation and preflighting were the top prepress automation techniques, integrations gave the most financial benefit. Integrations like RSA's ReadyPrint to WebCRD and QDirect output manager save time and steps by automatically updating data and sharing it with the other applications.
Further your automation with pre-built workflow templates (i.e. N-up imposition, and more) to standardize processing and reduce operator time.
Add Enterprise Output Management for Additional Workflow Optimization
Now that you've automated a good deal of your workflow, you gain even more value by optimizing your equipment use and operator time by adding RSA's integrated QDirect output manager. QDirect supports higher volumes with:
Batching and grouping of like jobs such as by delivery route or SLA
Automatic intelligent routing (best device, rerouting, load balancing)
Managing output – flood control, adding barcodes for finishing/mail
All of these functions can increase equipment uptime by minimizing job changeover, control running costs, and save time by centralizing management of your entire operation. 
The Value of Shipping and Customer Support Automation
Having a Web to Print solution can also dramatically reduce your CSR and help desk call volumes, but you may not have considered the value of automating shipping. WebCRD can get jobs to your customers sooner with partial shipments, skip the shipping process for jobs that don't need it and eliminate the manual steps of entering tracking numbers and costs and customer notifications by integrating with third party shipping systems.
Automating Billing and Reporting Adds Value for Marketing and More
Your Web to Print system, along with the automations you incorporate, is constantly and automatically capturing data about your operations. This includes data used for billing and other metrics that can be used to help improve your processes and justify equipment.
Using workflow software like WebCRD for automating your billing and chargebacks processes typically reduces the process to about an hour per month. Saving this time frees you and your staff for other higher value tasks like analysis and reporting. A customer recently shared that they have been using the time gained from the reduced billing process and RSA's built-in reporting to create reports and analyze which products are most popular, so they know what to market to customers.
Adding it All Up
How do all these savings and value add up? Let's look at an example in-plant operation that has about 125 jobs a week (500 per month), with an hourly rate of $30/hour.
Calculating just the time savings from processes in WebCRD (customer order time, order entry, estimating, prepress and proofing, printing and finishing, and shipping, data entry, support/customer service, and billing), the estimated time savings from using WebCRD versus a manual process is over $9,800 per month, and over $118,000 annually.
This estimate does not include the value of addressing challenges we mentioned earlier like reducing turnaround and errors, increasing customer satisfaction, producing more work without additional staff, and the ability to offer and market existing and new services and value-added products.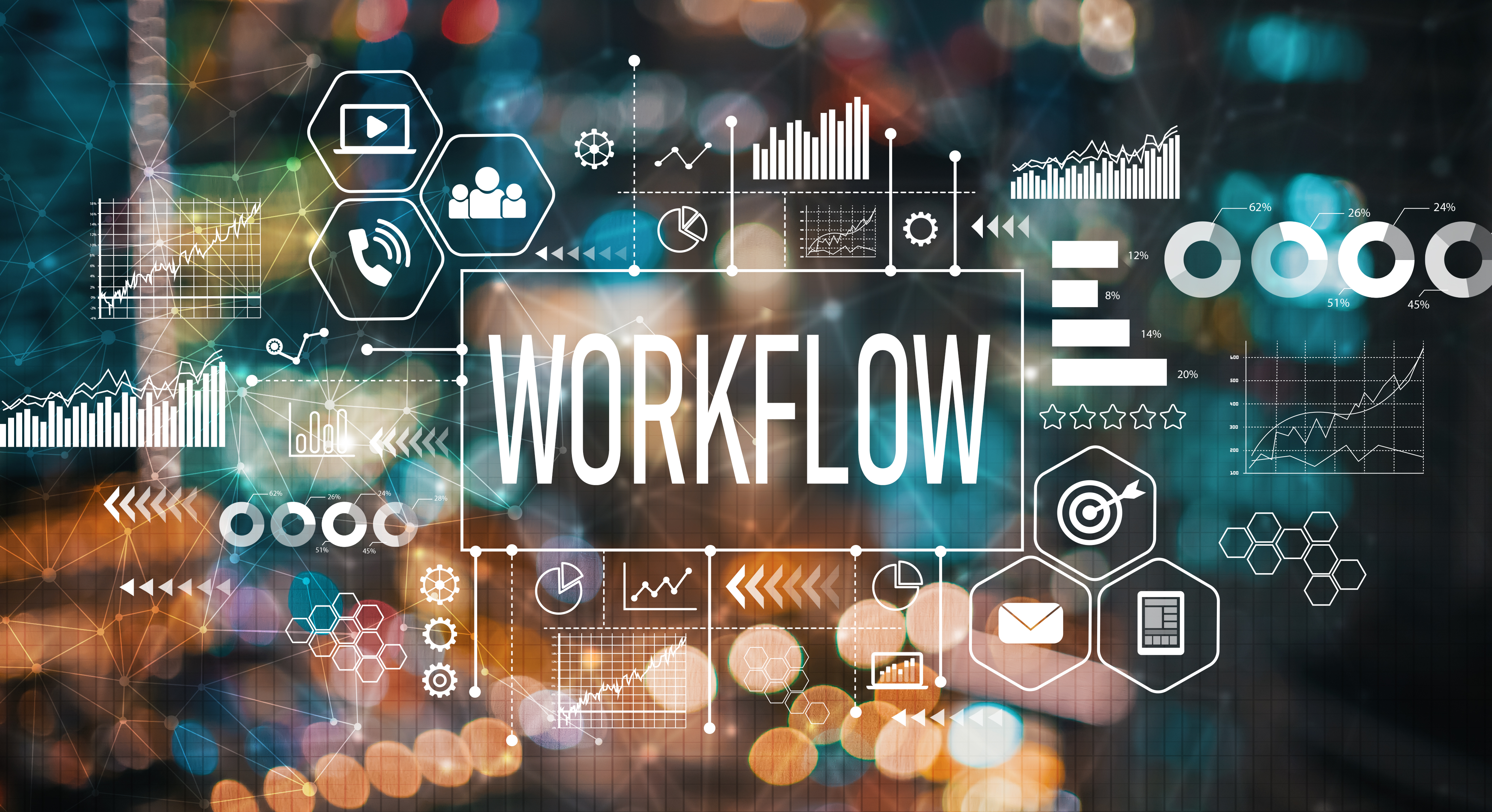 Take the Next Step to Realize the Value for Your Shop
Want to calculate the true value of workflow automation for your shop or discuss what went into our savings calculations? Find out and take the next step to quantify the value for your shop using your numbers by contacting us today.