Elisha Kasinskas
|
December 13, 2015
In this "Build a Better In-Plant" article, we share four tips on how you can provide premium service to your customers by integrating with customer flow; and being informational, intuitive and capturing their interest with a workflow attuned to them.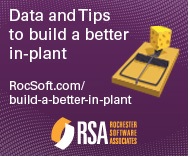 4 Valuable Tips for Providing Premium Service Tuned to Customers
Today's in-plant customer looks for the exceptional. You can certainly be the exceptional provider. With just four "I's," you can fulfill the ultimate service experience for your customer base. In all verticals, your customers look to be served. Get your service tuned to your customer's frequency, "What's in It for Me?" Integrate: Be informational, intuitive and interesting with a workflow attuned to them.
1. Integrate with Your Customer's Workflow Tune in to the intricate workflow of your customer. Approval processes, content security, auditable information flow, and ease of access for the right people are just a few of today's needs. Your online service can make this simple, quick and compliant by listening to your customer and adjusting your workflow accordingly. Your shop and customer service teams will become more synchronized with customer processes when there is tight integration with customer flow.
2. Informational
Tune in to the demands of your customers' situations. Each customer has differing criteria and pressures. Every order can be tracked through your process and reported to the customer as it moves through print, finishing and shipping. Let them see their progress through online status and email updates: Customize to their particular need. One wants online status, another would only like email at completion and shipping, and another wants quarterly reporting including type and volume of orders and cost by order type. Be personal. Be informational.
3. Intuitive
Tune in to the nuances of your customers' workforce. A great online customer service system has a smooth, easy, intuitive flow; it knows just what the customer needs. A variable document with key content and graphic blocks that can be adjusted while also being pre-approved brings satisfaction. Behind the scenes compliance approvals and checks can become invisible, thereby cutting days of communication outside of your system. Make it easy. Find the bottlenecks for your customer and eliminate them with inclusion of the right people in the processes.
4. Interesting
Tune in to the voice of your customer. They are looking for service beyond the ordinary. Every department has special needs to which you can respond. Your online service engine can be customized for each division and even each department within a division. This type of personal service and attention to detail can easily build print volume. In one in-plant, the Marketing division worked with Print Services to develop customized landing pages throughout the ordering cycle for each branch operation. Specialize to accent look and feel with personalized branding. Bring more attention through engaging the customer and watch orders build at amazing rates. Make your online service engine interesting to your customer as they find their brand, their feel, and their look throughout the process.
Many of our in-plant customers have found great success by embedding the customer's voice, process, workflow and specific situation into their online and shop services. At the end of your day, nothing is more fulfilling than overhearing a customer say to a friend, "It seems like they just know how to serve me my way. They're tuned into my wavelength."