Home /

Workflow Automation Offers Savings and Flexibility
Workflow Automation Offers Savings and Flexibility
K-12 In-plant shares how print workflow automation has saved thousands, provided flexibility and drives volume to the print center.
In this presentation, production Lead Mike Griswold relates how implementing Web to Print and workflow automation software has driven volume to the Tacoma Public Schools in-plant print center, saved thousands of dollars for the school district and offered flexibility during the coronavirus pandemic. 
Hear how automation has maintained productivity and controlled costs and delivers impressive results for the print center, customers and the district:  
Produced

50% more jobs without adding staff

Saved

$21K by eliminating job tickets and month end checking

 

$1k savings by automating business card prepress

work

 

30% faster turnaround 

 

Saved the school district

$189,000 on 12,600 jobs per year.



Tacoma implemented automation in stages to enhance productivity step by step:
WebCRD Web to Print reduced touches at submission
QDirect output management automated workflow
ReadyPrint universal prepress and QDirect.SCAN Scan to Print Center™ fully automated the system.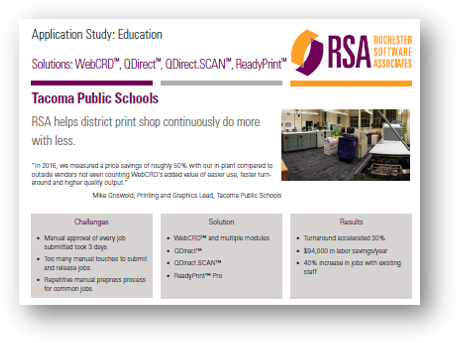 Learn More About the Benefits this In-plant is Experiencing
Want to learn how this K-12 in-plant print center is using workflow automation for productivity, savings and flexibility? Download the case study today. 
About this Presentation
Presented At: PRINTING United Digital Experience
Presenters: Michael Griswold, Tacoma Public Schools
Moderators: Bob Neubauer, In-plant Impressions
Sponsors: Rochester Software Associates (RSA)