Elisha Kasinskas
|
March 07, 2013
In the past, only high volume operations had central output management system software. However, as print center complexity has increased- think about the variety of input sources, the mix of printers, and the multitude of possible outputs- a tool to automate, centralize and manage workflow has become a necessity. Operations are running lean and adding labor to handle manual processes is not an option.
Output management software acts as a "traffic cop," providing a central place to manage jobs; control and automate workflow; and decide how, when, and where jobs should be produced. Based on its knowledge of your operations, the software can manage, modify or transform the inputs and output to any printer or other workflow tool.
Over the next few quarters we will discuss applications of output management that have helped print centers across all verticals reduce costs, increase efficiency and boost productivity.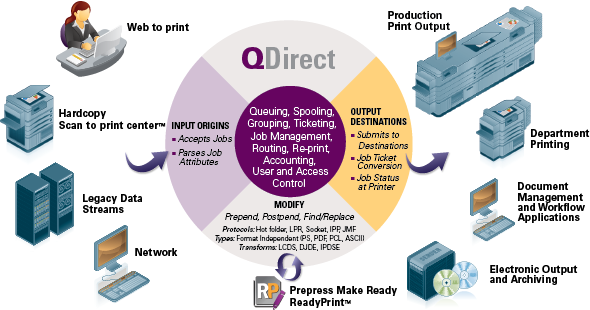 Who Needs Central Print Output Management?
Print Centers that receive jobs from multiple sources (mainframe, network, publishing, web to print and other submission tools) need one central source to route jobs based on priorities, volume and available equipment.
Corporate print centers, in-house operations, service bureaus, publishers, schools, and anyone that wants to keep their multiple printers working efficiently.
Print centers that need to modify or enhance jobs. Examples include transformation from legacy datastreams to PostScript or PDF, adding bar codes or charts to jobs, breaking up large jobs for distribution or printer management, and merging jobs and changing job ticketing options.
Converged print centers (those that produce both data center/mainframe and in-plant jobs).
In-plants that need to reduce costs, increase utilization, eliminate manual processes and increase efficiency.
High volume or high volume transaction output operations, including those that produce sophisticated variable data jobs from repeatable data feeds. VDP examples include personalized customer letters, insurance estimation of benefits (EOB), lab reports, packing lists, postcards, ID cards, etc.
The Benefits of Central Output Management
Output Management software such as RSA's QDirect offers many benefits. The application automates and manages production workflows from start to finish, eliminates manual processes such as re-ticketing jobs, improves delivery time and reduces errors and production costs by simplifying workflows and maximizing printer utilization. As your operation changes, you'll want a solution that has options from handling simple output management to complex multi-location multi-vendor workflows, ideally an application that you can personalize to suit your needs.
Learn More about Output Management in the Coming Months
Learn more about how output management has been applied in many verticals in the coming months in this blog. Don't want to wait? Read output management case studies, see a slideshow, or view an online demo to learn how a "traffic cop" can benefit your print center.