Howie Fenton
|
November 18, 2019
I've been writing about a balanced scorecard approach that in-plants need for survival. I see two prongs that in-plants need to remain competitive and survive: reduce print production expenses and build more value-added products and services to offset the decline of traditional products.
Watch this four-minute video where I sit down with Vince Tutino, RSA's Senior Product manager to talk about how RSA's solutions can help in-plant print centers reduce print manufacturing costs and offer more value-added services.
Tutino shares how RSA's workflow software reduces costs and increases capacity for in-plants without adding staff by: automating job submission and production to all production printers via WebCRD Web to print; increasing efficiency with load balancing, automated routing and batch printing with QDirect output manager; automating and tracking late stage editing with ReadyPrint, and making workflow changes based on real operational data using WebCRD's dashboards.
Tutino also talks about how RSA enables in-plants to offer valued-added products with: wide format support; variable data solutions, including RSA's new free ImpactVDP solution; promotional item inventory management and ordering; digital download ordering (eBooks, images, design file, etc.) and integrations with software that extend in-plant offerings such as shipping and print procurement.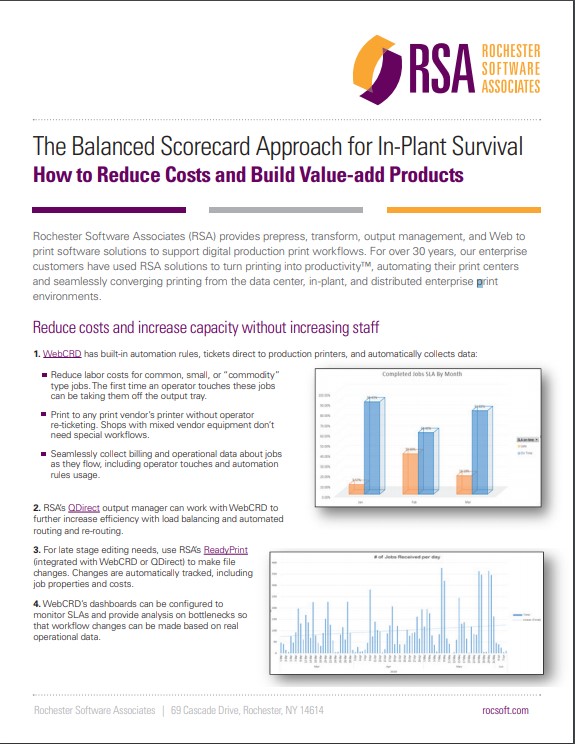 Reduce Your In-Plant Costs and Build Value-Add Products
Get RSA's "How to Reduce Costs and Build Value-Add Products" executive brief for all the details of how RSA's solutions support the two-pronged balanced scorecard approach for in-plant survival.