Elisha Kasinskas
|
July 19, 2016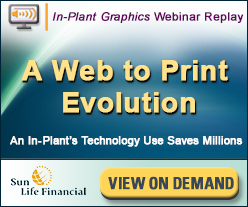 In a recent webinar, the staff at Sun Life Financial talked about their strategy, decision making process and success in their implementation of RSA's WebCRD in-plant Web to print software. The webinar was moderated by In-plant Graphics Editor Bob Neubauer, who discussed the magazine's recent survey results including:
54% of in-plants are using a web portal for online ordering and job submission.
22% are planning to add Web to Print software within the next year.
Sun Life is a leading financial services company providing financial planning, life insurance, health insurance, investments and more to over 37 million people. Representing Sun Life's Print Center operations were Lance McGinnis, the Director of Administrative Services and Craig Allen, Print Services Senior Application Specialist.
Presenters Shared Strategy, Shifting the In-Plant's Positioning, Workflow and More
Lance McGinnis began his presentation from a strategic point of view, discussing how he made a decision to change the positioning of the in-plant from a behind the scenes part of the company to a top of mind operation. McGinnis said, "When your back room operation may not get the recognition or influence required to get the tools, you need to get the job done." After describing the mission of the in-plant, he described how the Web to Print benefits were aligned with the in-plant's mission, which was to utilize technology and make ordering easier and more convenient for customers. Craig Allen started his presentation by explaining an interesting workflow. Allen said that before Web to print, jobs were submitted with emails and required a minimum of approximately 15 minutes/job to write up. In many cases, however, instructions were not clear resulting in an additional 5-15 minutes to clarify.  After researching different options, Allen explained why Sun Life chose RSA's WebCRD:
The balance of a user-friendly interface for the customers and powerful features for staff,
A powerful and integrated variable data module,
The ability to order non print items from the catalog,
The ability to streamline four manual touch points:

Eliminating moving submitted files to different folders,
Overcame the issues of missing information,
Removed the error-prone process of inputting the unique printer settings (paper type, size, finishing options) for each job,
Automatically calculating the fee and charges back to the billing system.
Benefits of Web to Print
The benefits include time-savings for both production staff and sales staff as well as an 86% reduction in cycle time for business cards.
The time savings for the production staff is 15 minutes/job which results in almost 1,100 hours per year, or approximately a half person.
The time saved for the sales staff in field offices is significant. Before Web to print, sales people spent hours printing documents. Based on the hours saved, Sun Life calculates they have 
increased their sales team by 5.6 representatives.
Business cards used to be outsourced and required a two week turnaround. Using the RSA WebCRD Dynamics module, they have brought business cards in-house and reduced turnaround time by 86% and cost by 60%. Instead of the two week turnaround, now the standard is two days and, in an emergency, as little as two hours.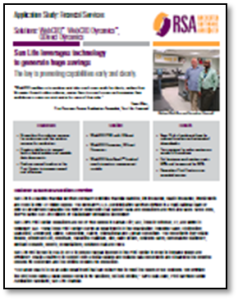 Learn more about Sun Life's Success
For more information about Sun Life Financial's success, download the case study, "Sun Life leverages technology to generate huge savings."