Howie Fenton
|
July 18, 2019
At the recent IPMA conference in Louisville, Kentucky we released the preliminary results from the 2019 "The Next Generation Tactics and Strategies for In-Plant Service Providers" survey. The results are some of the best data for in-plants reported in decades: 81% reported they met their financial objectives last year and 60% reported they met their financial objective in the last five consecutive years.
The survey was sponsored by Canon and included over 40 questions about: traditional and value-added services, hardware and software purchase intentions, marketing and sales tactics, and issues of staffing, workflows, and metrics. The survey will remain open until 100 in-plants have taken it. Take it here.
Positivity about Hardware and Software Purchase Plans
The responses about hardware, software and workflow were also positive. When respondents were asked the age of their equipment the #1 answer with 58% responses was that their equipment was "up to date." When asked how the volume of web to print orders had changed in the last year: 43% reported an increase, 24% said it remained the same, and 3% reported a decline (some reported they did not know).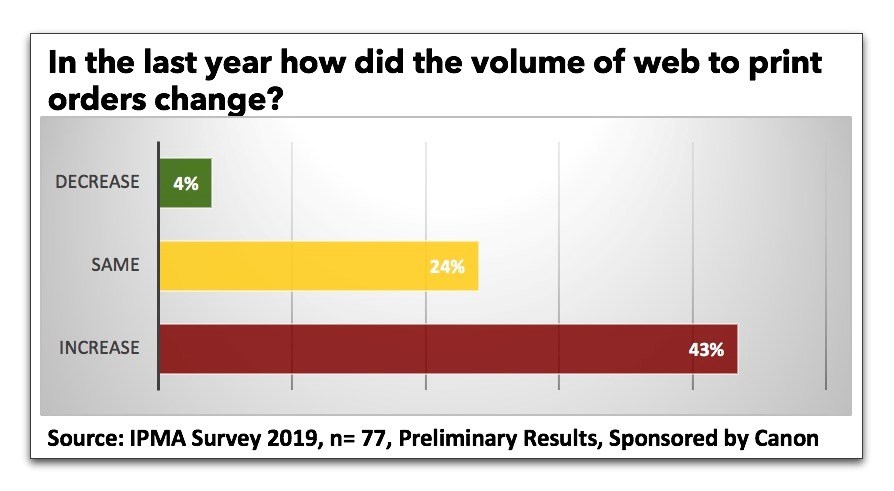 The #1 reported software in-plants wanted to buy or upgrade was web to print, followed by Print MIS, variable data printing (VDP) software, color management, individual prepress applications and PDF workflow software.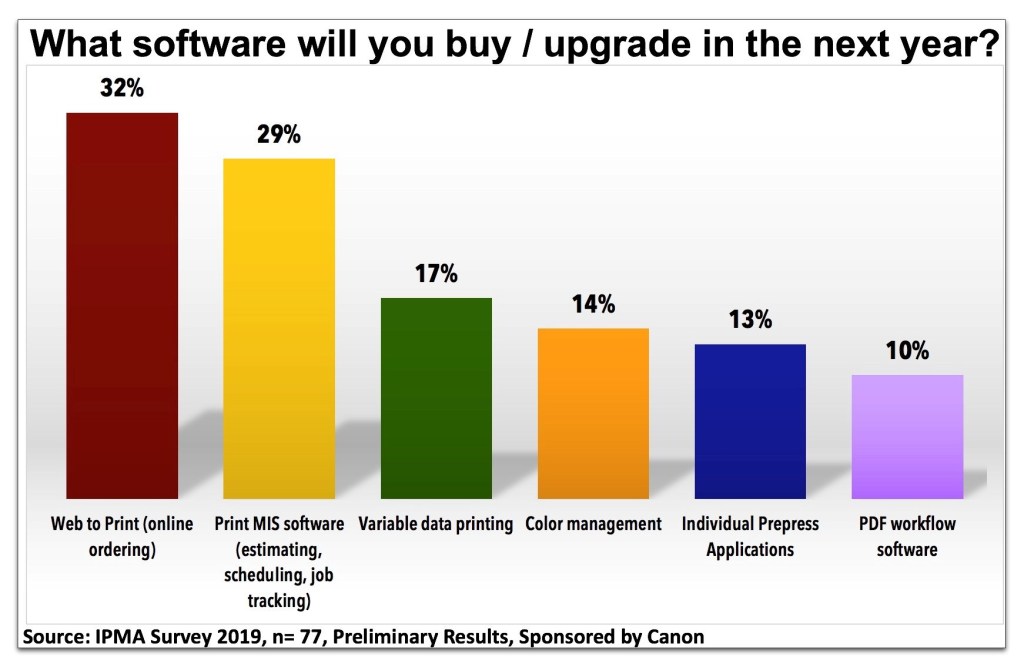 Other signs of good health included: growth in inkjet production printing, large format printing, promotional products, and apparel printing / personalized sewing. However, these results do not mean that there are no challenges for in-plants. Respondents cited issues with marketing and sales, competitive pricing, mailing services, operational metrics, and of course, proving their value.
The presentation was based on 77 in-plants, but more are needed to complete the study. Any in-plant interested in receiving the conference presentation can simply take the 20 minute survey at https://www.surveymonkey.com/r/KFZ6V55, email us at howie@howiefentonconsulting.com using the subject line "I took the survey" and we will send you the conference presentation.