Elisha Kasinskas
|
July 24, 2015
A perennial favorite, the in-plant panel at GRAPH EXPO is back again. This year, the session, titled "In-Plant Panel: Champions Engage for the Future," will be held on Monday, Sept. 14 from 8:30 – 10 a.m. I'm happy to present the members of this year's panel, and pleased to have the privilege of moderating again. The panelists are:
John Sarantakos
Director for Printing, Mailing and Document Services
University of Oklahoma (OU)
OU Printing Services is the largest university in-plant printer in the United States with more than 85 full time staff members and a budget in excess of $16 million. John is the Past President of the In-Plant Printing and Mailing Association (IPMA), and he has been a board member for the past seven years. The operation is clearly a champion, winning over 200 awards for printing quality and innovative ideas. OU's future focus is a result of challenging the status quo, and the boldness to take chances and make investments that further ingrain their presence within the University.
Mike Lincoln
Colorado State Printer
Colorado State Department of Personnel and Administration,
Division of Central Services, Integrated Document Solutions Group
On the advisory boards of several peer organizations, Mike currently serves as IPMA's President-Elect. As the fourth largest government in-plant, the State of Colorado's operation is 66 strong, carries a budget of nearly $16 million and produces more than 80 million impressions annually. In addition to print and mail services, the operation also offers secure document storage and delivery and dispatch operations for the State, which includes interdepartmental mail and courier and LTL deliveries. The operation has won numerous awards, including a 2015 in-print award. A future focus of this in-plant was the addition of production inkjet in late 2014. Lincoln has spoken on several panels in 2015 about inkjet.
Karen Meyers
Business Manager
Michigan Farm Bureau Centralized Print and Mailing Services Department
Known as the state's largest general farm organization, the non-profit in-plant operation serves the Farm Bureau Family of Companies and outside clients, with Karen overseeing day-to-day operations for the in-plant and all business management decisions. The staff of 6 produces over 6 million digital and offset impressions and over 5,500 feet of wide format materials, as well as processing 1.3 million pieces of mail annually. The operation has seen double digit percent increases in digital volume over 2014. This in-plant's future focus revolves around engaging with customers for the future by building long lasting relationships. In particular, the creation of a print governing committee that has enabled the in-plant to be proactive, better plan, prepare and project, and remain relevant.
Andrew Yee
Director, Statement & Document Production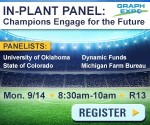 Dynamic Funds, a part of The Bank of Nova Scotia ("Scotiabank") (Canada's third largest bank with over 3,000 branches and 80,000 employees)
Andrew's team consists of 10 outstanding staff members – all exemplifying a "Customer First" attitude. Andrew's in-plant operation primarily supports Dynamic's internal sales force from coast-to-cost with personal service and provides other services critical to the operation of the company, including business continuity. The team has been recognized for the past six years as the industry leader for communication excellence in mutual fund statements.
You're Invited to Attend
Join me and these top in-plants in Banking, Government, Higher Education and Non-Profit from around the United States and Canada to hear:
Why these in-plants are champions
How they are engaged to meet the future
How they stay relevant, lean and mean
How they satisfy customers
And the new work they are adding, the tools and technology they are using to grow, and much more
Register Today and Watch this Blog for Stories About Each Panelist
See RSA's In-plant Insights blog for in-depth stories about each of the panelists and their operations. These stories offer a sneak peek at what sets these in-plants apart, their stories, and the valuable information that they will share in the session.