Elisha Kasinskas
|
August 20, 2012
Empowered In-plants: Tell-All Success Stories from the Field– Session Panelist Close Up
This article is the final in-depth series introducing each of the successful in-plant panelists at the headliner event for the new in-plant education track at GRAPH EXPO.  Titled "Empowered In-plants: Tell-All Success Stories from the Field," and moderated by Rochester Software Associates (RSA) announced the session features in-plant leaders in healthcare, insurance, higher education and government chosen by their peers.
Parkview Health Healthcare In-Plant Confidential: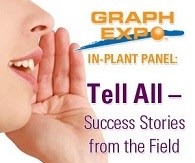 Be Outrageous and Thrive Gene Voelker, Manager Supply Chain Business Services at Parkview Health, has overseen printing services growth by approximately 100% since 2006. Voelker also manages Postal Services, Records Management and Retention, and the outsourced courier system.
Parkview Health is a not-for-profit organization.  As northeast Indiana's largest healthcare provider and one of the region's largest employers, they have more than 7,000 employees.  Voelker has been with this healthcare in-plant for six years, starting as a financial and contract analyst for the hospital system valuating outsourcing proposals when an outsourcing vs. in-house analysis was conducted on the in-plant. Gene led the transformation to a thriving business.
Many in-plants face declining budgets. In-plants in the healthcare vertical are uniquely challenged due to declining healthcare reimbursements. For Parkview, Gene notes that in environment of declining reimbursements, the operation needs to "...take cost out of the system, yet improve the quality level of service.  In 2012, we were able at add three positions because of our growth and the organization's confidence in our ability to bring value in the future. We provide outrageous customer service all the time. We continuously innovate and we have a proven cost reduction track record.  This is why we thrive. Dedication Delivers High Marks and Big Savings for this In-Plant's Overall Organization.
Parkview Printing Services has a staff of seven in printing services, six part-time employees in Postal Services, and a full and several part-time staff in Records Retention and Management. The print center generates over 20 million impressions a year, with non-printing value-added services such as lamination, inserting, VDP, mailing, design and consulting accounting for about 50% of their business. Over 7,500 print items can be ordered—99% of them on-demand- by the 1,800 customers that use their services.
Voelker feels that there is no outside vendor that could be more dedicated to Parkview's success than his staff. In fact, Printing Services has received the highest customer service rating in the entire organization. The staffs across all three of his departments are flexible and jump into any area to meet the business needs at that moment. He's even attracted official and unofficial volunteers who help them continue to grow and meet the demands during peak times.
As the organization and healthcare have changed, the operation has rapidly evolved. They actively pursue any work and services that are outsourced and bring their value proposition forward in a persistent, professional way.  This effort has resulted in some very high-profile, large savings projects, which has made them a solution provider that people actively seek out for advice and help.
Equipment and Software
Parkview operates in a mixed printer environment, with color and black and white equipment from multiple vendors, and other equipment for envelopes and bindery such as cutters, drills, folders and shrink wrappers. Software includes design software, PDF-based production workflow software, web to print, variable data print software and numbering software.
Delightful Secrets. Seize Opportunity, be Uncomfortable, and Document your Worth.
The Secret to Parkview Printing Services Success according to Voelker is that "We are not in the printing business; we are in the customer delighting business.  We will make your work easier, save your department and the organization money and provide excellent quality work that supports your effort.  You also need to quickly seize opportunities to serve and save whenever they arise, even if it is outside of your comfort zone. Lastly, you must develop detailed financial and operational reporting so that you can prove your value, growth, and savings."
Join Gene Voelker and the other panelists October 8th at GRAPH EXPO's Headliner In-Plant Track "Empowered In-plants: Tell-All Success Stories from the Field"
Learn how these top in-plants in insurance, higher education, government and healthcare are building their success.  Other panelists include: Jimmy Friend, University of North Texas (UNT) Director of Printing and Distribution Solutions, (PDS), Phil Larson, former Director of AFPress and grafaccent  at American Fidelity, now President of Shepherd Consulting OK, and Debbie Gallagher, Senior Operations Analyst, for the State of Oregon Department of Administrative Services (DAS).
The panel will be moderated by Elisha Kasinskas, Marketing Director of Rochester Software Associates, developers of the top in-plant web-to-print software, WebCRD.