Howie Fenton
|
February 04, 2021
February is the In-plant Printing and Mailing Association's (IPMA) annual In-plant Awareness month. Unfortunately, like so many other challenges we are facing during the pandemic, our standard face to face strategies will not work. Inspired by in-plant awareness month, this post talks about the often-overlooked importance of understanding product and service awareness and offers five ideas to help you increase your in-plant's awareness.
Understanding the importance of awareness may not be on the top of your daily list of priorities. Typically, our day-to-day work focuses on the schedule, down equipment, product quality, and overcoming complaints from staff and customers. It takes time to understand the importance of awareness and even more time to gather information about your customers awareness. In the 2019 study we researched for the IPMA, "Overcoming a lack of awareness" was the fourth highest response to the question about what the in-plant's greatest challenges were.
Question: What Are Your Greatest Challenges?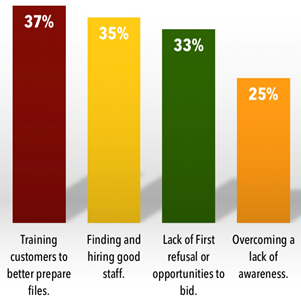 To really understand the importance of awareness you need to listen to focus groups or send out surveys. Over the years we have used both to understand the important role of product and service awareness. Using these tools, you start to hear customers say, "I didn't know you offered mailing services" or "I didn't know you could print and hang banners."
The challenge today is that many of the most important tools we used to use to increase awareness are not available during the pandemic. Tools such as open houses, in-plant tours, hands on training, renting booth space, face to face sales calls, and focus groups are no longer options. But there are ways you can increase awareness without in person interaction.
5 Ideas to Increase Awareness
1. Conduct A Different Type of Survey
Surveys are a great tool to help increase awareness but not using the traditional survey strategy.
Traditional survives often inquire about product quality, customer satisfaction, application growth, and on-time delivery. Use a survey to ask if customers are aware of the services you offer. Below is an awareness survey from a large Midwest University.

The best way to use this information to increase customer awareness is not the standard survey strategy. Traditionally surveys start by promising anonymity, which would only result in an understanding that that was a lack of awareness for specific products. However, a strategy we have used to increase awareness in the past is not promising anonymity, which allows you to find which customers are aware and more importantly unaware of which products.
Look at the results of this survey. Due to a great awareness campaign about variable data printing, 80% of the customers knew the in-plant offered that service but the balance of the value added services ranged from a low 25% to a high 67% with an average of 50% awareness. Learning which clients are unaware of which services allows you to contact these clients and say, "We noticed in our survey you were not aware that we offered some services, we would like to talk to you more about that."
If you are using a Web to Print solution like RSA's WebCRD, you can easily survey customers as part of your status emails to customers.
2. Offer Online Training
Obviously, in today's environment hands on training is not possible, but that does not mean you cannot offer specific application training using tools such as Zoom. In fact, many customers who are working at home may be more receptive to online training because they have more free time. This is especially true if you offer short, targeted classes such as "Understanding the resolution requirements for high quality printing" or "How to prepare files for output from Illustrator" or "Using the latest features in Photoshop."
3. Create new product videos
Last year we wrote a four- part series for IPMA based on McKinsey's Four Steps for Survival. In the first article in this series we discussed rapidly recovering revenue which included creating a customer list (very easy to do if you are using an ecommerce system), preparing a sample book, and creating short videos. We talked about how you could use the camera in your Smartphone, make it fun and funny, and creating different videos for different applications.
4. Demonstrate Effectiveness
Building on the idea of using video is to talk about a case history that demonstrates the effectiveness of the product or service. It could be the effectiveness of variable data printing, direct mail, QR codes, Purls or any other innovate strategy. While videos about new products and service are great, talking about the success in terms of increasing sales, enrollment or fundraising is even more powerful. Another way to increase the credibility of your message is to include one of your customers and let them explain how and why it was effective for them.
5. Demonstrate Experience with Digital Transformation
Another very common compliant we hear in focus groups and surveys is customers' perception that the in-plant is not up to date or that the staff is unaware of new digital technologies and services. A lack of understanding of social media marketing is one of the most common technologies cited. If you take advantage of product videos you can go to the next step and incorporate social media marketing.
After you have created video files you can create a YouTube channel. Once created and loaded with videos, you can link to videos on your website, in emails, in texts, and with social media. That means you can link to or "push" people to the videos using Twitter, LinkedIn, Facebook and more.
Summary
The challenges of the pandemic are not going to subside anytime soon. Updating your customers and prospects about your products and services is just one way to motivate interest, engagement, and sales. In this post we offered five ideas to help increase awareness: surveys that track who is unaware of products, offering online training, creating product videos, discussing campaign effectiveness using social media to push people to your videos, and demonstrating your digital savviness via social media marketing.
Want More Ideas for Creating Awareness?