Home /

Five Factors for Web to Print Success
The Top Five Factors for Web-to-print Success
In our experience, there are five key attributes that represent the most successful WebCRD web-to-print implementations:
Change-focused print center leadership
Executive sponsorship
Outward sales effort (marketing the print center)
Technical implementation support
Assumption of shared implementation responsibility
At Rochester Software Associates, we have found that organizations exhibiting these five factors consistently experience tremendous success that can be measured in increased print volume without increasing staff, increased productivity due to workflow improvements and increased customer satisfaction.
"
There were many critical success factors in bringing WebCRD to the operation, but we knew it would be important to market the new web-to-print system if we were to truly achieve our goals. We advertised to get our customers excited about this new system- promoting the ease of ordering, and the available training dates. We also created a video which helped us show our customers the impact WebCRD could have on our department, and for Fox Valley Technical College.
In a down economy, being efficient is the key to survival. For smart in-plants and print services providers, looking for greater efficiencies and automating workflow enables increased print volume with the same or even fewer resources.
Download the full white paper by filling out the form below, or contact us to learn more about how you can strategically employ web-to-print to help achieve the goals of your organization.  Also, view our presentation about Fox Valley Technical College from our IPMA session at Graph Expo 2011.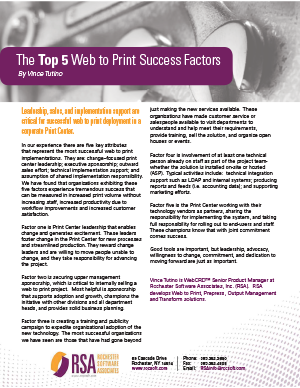 Title:
The Top Five Factors for Web-to-print Success
---