Home /

Winning Ideas Panel
Winning In-plant Ideas Panel Session at IPMA 2019
Three healthcare in-plant print centers share over a dozen ideas about being a winning in-plant.
RSA moderates a panel of three healthcare in-plants that share the ideas and experiences that have made them front runners with winning operations. Each panelist briefly discusses one key idea in four topic areas, including: shop transformation, process improvement, culture and growing new leaders. Eighteen ideas are discussed in the full session.
Download the Winning In-plant Ideas book with all of their ideas- over 30 - to read all their ideas.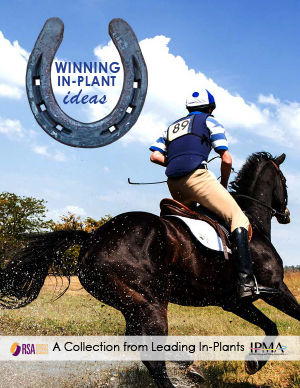 Get 30+ Winning Ideas
Secure your "winning" future with quick ideas, thoughts, and tips from three leading in-plant print centers.
About this Presentation
Presented At: IPMA Conference 2019
Moderators: Elisha Kasinskas (Rochester Software Associates)
Panelists: Jon Bedsted (Mayo Clinic), Gayle Robinson (Tanner Health), and Brett Jenkins (Nationwide Children's Hospital)