Home /

IPMA In-Plant Panel Futurescape the In-Plant of Tomorrow
IPMA In-plant Panel: Futurescape the In-plant of Tomorrow
Print center managers discuss their new services, pursuing new initiatives and prioritization.
Four in-plant managers in healthcare, higher education, government and public transportation share their experiences offering new services, and discuss their new initiatives and how they prioritize them in their shop.
Watch each of the short videos to learn:
About the panelists and their print centers
The new services in-plants are offering and how they measure success
About a variety of new initiatives ranging from VDP to Apps
The tools and methods these in-plant managers use to prioritize initiatives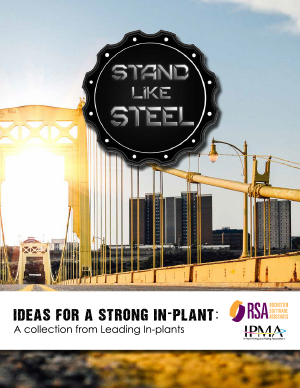 Get the Ideas for a Strong In-Plant Idea Book
This book offers over 40 ideas from four in-plant managers covering four topics.
About this Presentation
Presented At: Print 2017 (IPMA Luncheon)
Moderators: lisha Kasinskas (Rochester Software Associates (RSA))
Panelists: Nancy Corcoran (Spectrum Health), Cathy Skoglund (Arizona State University Print and Imaging Lab), Louis Ferrel (CGCM, Metropolitan Transit Authority), and Bruce Goodman (State of Wisconsin Bureau of Publishing & Distribution)
Sponsors: Rochester Software Associates (RSA), Xerox, Ricoh, and Canon