Home /

UPMC Real Business Article
Web-to-Print delivers savings, accuracy and ease to University of Pittsburgh Medical Center (UPMC)
A Real Business article.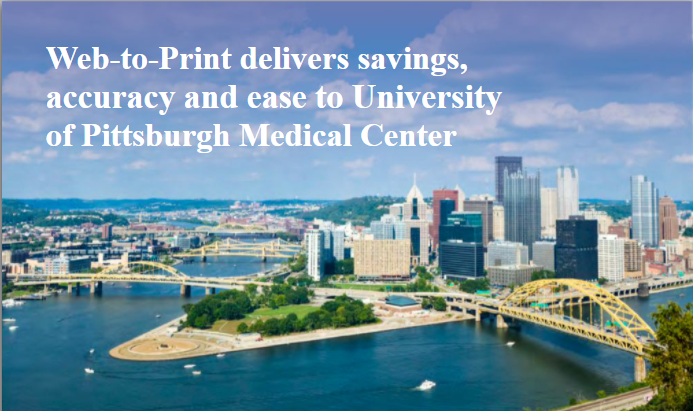 UPMC is a global health enterprise with more than 50,000 employees, 20 hospitals, 400 doctors' offices and numerous specialty clinics and other facilities headquartered in Pittsburgh, PA. Their centralized print center supports them all and now WebCRD web-to-print capabilities are available to the entire organization-improving the user experience, reducing inventories and job turn around and saving the Health system tens of thousands of dollars, including saving $30,000 from their first application of WebCRD Dynamics. Learn how this healthcare entity reduced print cycle time by 33% and are growing their print volume 20% monthly, all without adding staff.
Application Study Industries
Challenges
Reduce touches
Accelerate turnaround
Increase volume with existing staff
Improve accountability and tracking
Statistics
$9 Billion Global Health Enterprise
Hospitals:
20
Doctor's Offices:
400
Employees:
50,000
Impressions:
15.6 Million/yr
Jobs:
54,480 jobs/yr
Solutions
WebCRD™ Web-to-Print submission and automated production management software
LDAP user authentication
WebCRD Dynamics™ Variable Data Module
Results
Tens of thousands of dollars saved and four touches eliminated
Cycle time reduced 33%
Hours of manual validation eliminated by account code validation at entry
Forms inventory reduced 30%
Web-to-Print delivers savings, accuracy and ease to University of Pittsburgh Medical Center (UPMC)
A Real Business article.