Home /

Penn State University
Penn State University Case Study
With WebCRD, staff can save more time and add more value.
"
Working with RSA has been great. We know we can call and have our needs met. Working together always makes it happen.
Customer Background/Solutions Overview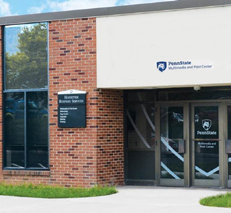 University Park in State College, Pennsylvania is Penn State University's largest campus. With approximately 46,000 undergraduate students, the print shop on campus has grown to provide all the services of a commercial enterprise, from regular mail, bulk mail, digital and offset printing and design.
The Penn State print shop has one main location and one satellite location on campus. The satellite office is mostly for walk-up work from students. The print shop has 50 employees, with some departments running on three shifts to meet the needs of their campus clients.
For years, Penn State had used a mix of third-party and in-house, custom-programmed software solutions to manage all the print jobs their customers needed: stationery, data center output and reporting, and walk-up jobs. It had become difficult to maintain all the different systems internally. When Penn State announced a rebranding, it was the perfect time to change to a single system that could handle all their needs and be simpler to maintain and update.
"I researched quite a few potential solutions," said Abbas Badani, Director, Mailing, Print and Copy Services at Penn State. "I saw that WebCRD is a robust system and an established player that Penn State can count on for the long term. It was impressive how many customers were already using the solution."
The requirements of the new system were clear. Penn State needed a solution that provided simple, one-page ticketing; catalog ordering, accounting and chargebacks; security; and design variable data templates to simplify brand management. WebCRD came through on every one.
"
We're excited to have launched our WebCRD application. There's been a noticeable difference in our workflow in first 8 months.
Flexibility is sometimes the most important solution feature.
Penn State was impressed by WebCRD's product features but it was implementation flexibility that set the solution apart for them. "We were able to install a software solution," explains Badani. "WebCRD is running on a virtual server on our campus, fully supported and maintained remotely by RSA. The infrastructure that RSA set up totally met our needs."
Service after the sale. Long after.
It was more than a year between Penn State purchasing WebCRD and going live with it in their print center. Design templates had to be developed twice as the University changed their brand identity in the middle of initial implementation; so much of the print center's work is stationery that relies on this identity. With the final design templates in place, the system went live on February 1, 2016 and has processed more than 8,000 orders in the first eight months. That's approximately $2.5 Million in work. Users really took to the system… with little or no training needed, they quickly started submitting their print orders
Fewer touches. Fewer workflows. More value.
WebCRD has eliminated a lot of steps and touches for Penn State's workflow. Ordering stationery is now done with one- click by the users who can approve rendering and release for printing themselves. The print shop has taken substantial time and potential for errors out of their workflow by virtually eliminating prepress and moving approval upfront; not involving staff in most cases. And with the current system, they're down to two workflows: WebCRD for all digital, and a separate system for offset and some mail services. Turnaround time is now 2-3 days, down from 7-10 days.
"By moving work though our shop faster, we keep our costs down and we can use our staff to add more value to our process and customer jobs," says Badani. "For stationery, what used to take two full-time employees can now be managed by one student in the front office and one student in the back doing cutting and finishing." This all means that a substantial amount of time that used to be devoted to stationery can now be used on more profitable endeavors.
Capabilities of a commercial printer; accountability of a campus partner.
WebCRD means the print shop can provide customer service 24 hours a day. They can take orders whenever customers are ready like the best external vendors. But, there is no billing from the Penn State print shop; everything is budget driven. They capture budget data during the order process and then the system validates budgets in real time to debit accounts in the Penn State accounting system. To enable this, the WebCRD solution is fed approximately 100,000 account codes every night because budgets can change every day.
© 2016 Rochester Software Associates, Inc. All brands and product names are registered trademarks of their respective companies. 11/2016
Study Quick-Look:
Application Study Industries
Challenges
Reduce touches of jobs in the print center
Accelerate turnaround for stationery
Use and protect new brand identity
Replace multiple legacy systems.
Statistics
| | |
| --- | --- |
| Budget: | $10 Million |
| Print Shop: | 50 employees |
| Annual Orders: | ~12,000 |
Solutions
WebCRD automated workflow
SurePreview™ for realistic proofs while ordering
WebCRD Dynamics variable custom template creation.
Results
Web to print job submission for all digital jobs
Timeline decreased from 7-10 days to 2-3
Saved thousands of hours/year in two applications
One-touch ordering by users to produce consistent, branded pieces.