Home /

Pembina Trails School Division
Electronic Workflow Dramatically Frees Teachers, Cuts Costs
A Pembina Trails School Division case study by Rochester Software Associates.
"
If teachers are making copies, they're not having contact time with students or working on lesson plans. Using RSA's WebCRD lets printing staff do the bulk of the printing and frees teachers to spend more time with students. WebCRD is not just the best choice for us. It is the only choice.
Customer Background/Solution Overview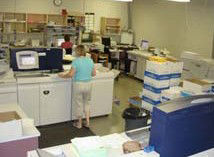 Wired is the word to describe Pembina Trails School Division (PTSD) in Winnipeg, Manitoba. This school system, in the wide-open plains of central Canada, is a leader in information technology. Recognized nationwide for innovation and connectivity. With technology leaders such as Microsoft and Rochester Software Associates, Inc., Pembina has elevated the way 950 teachers teach 13,000 students and 2,100 staff communicate throughout 34 buildings.
PTSD has its own almost 30 mile-long backbone of 48-strand dark fiber-optic cabling that delivers an amazing 20 gigabit data transfer rate between school buildings—the fastest in privately owned education network in Canada.
While this investment has dramatically enhanced the transfer of information throughout the division, and brought in revenue from other schools in the Winnipeg area, one of the greatest advantages was how it has facilitated printing of two million pages per month on a wide variety of printers throughout the division.
Printing it old school
In the old model, teachers would print out their worksheets or handouts, for example, and make copies on local copiers. In many cases this meant waiting their turn at an overworked copier in their building. For larger jobs, the originals would be picked up by divisional courier and transported to that school's designated centralized print operation (if one existed) or a local print shop for reproduction.
A significant volume of the work was done by local printers, increasing print costs across the division. Pickup and delivery also added time and costs, with the entire process taking two or three days and requiring extra manual job ticketing work for printer operators.
To each his own
"Anyone on the network has the choice to print to any local printer or submit jobs to the central print shop," explains Don Reece, Director of Information Technology at PTSD.
"We use WebCRD from Rochester Software Associates, for routing jobs to the appropriate printer in the print shop based on each job's ticketing requirements and each printer's capabilities."
Fulfilling the promise
"
RSA's technicians were able to turn on a dime and were very responsive to our specific needs. The way they work is what makes RSA different. They are personally involved in seeing that what they install is working properly.
Using WebCRD, RSA's Web-to-print solution, was another part of streamlining Pembina's print production process.
WebCRD enables teachers to electronically submit jobs from any desktop, including from home. At PTSD, WebCRD provides greater accuracy for local printing and complete print instructions for jobs submitted to the centralized print facility.
Like many other school systems, PTSD wanted to help teachers be more productive while relieving them of the time-consuming copying and printing of handouts, exams, worksheets and other course materials. Reece notes that there are now no copier lines, estimating that teachers are saving at least three hours weekly using WebCRD—that's 114,000 hours!
Reese expected pushback from teachers who often change lesson plans at the last minute. "Teachers want to retain flexibility in planning and reduce potential waste, so they didn't want to have to order the materials they would need three days ahead," But the anticipated pushback never came.
Speedy delivery
"Typical jobs submitted using WebCRD are turned around in 24 hours or less. Since teachers can be confident their job will arrive in time, they just put their order in the day before. They can still print locally if they need something right away or at the last minute," says Reece.
Letting teachers teach
While some schools encourage teachers to use the print center for most jobs, the enabling power of WebCRD lets PTSD take a different view.
"Wages are about 85 percent of total costs in a school system. So if teachers are making copies, they're not having contact time with students or working on lesson plans. Using WebCRD lets printing staff do the bulk of the printing and frees teachers to spend more time with their students."
"WebCRD also gives us a professional job," observes Reece. For example, we can interpose color pages with black and white pages and put a coil or tape binding on the document, which we can't do with the black and white copiers in the individual schools."
Plays well with others
One of the most critical requirements of the system at PTSD was the integration with Microsoft Active Directory, the integrated and distributed directory service that is part of the Microsoft Windows Server platform. Pembina uses Active Directory for numerous tasks, both print- and non-print-related, so it was essential that RSA's solution would integrate with their infrastructure for a single user sign-on. "We worked closely with RSA to configure their software. The way they work is what makes RSA different. They are personally involved in seeing that what they install is working properly."
Do the math
WebCRD has dramatically streamlined job submission, job ticketing, document management, and enabled teachers to work more efficiently. The print center was able to bring in-house 100,000 pages of color volume monthly that was previously printed externally without adding staff. They've embraced the new technology, adding barcode scanners and taking work from outside clients— who also use WebCRD for submission— while reducing costs and making it a profit center.
"RSA has been an important part of the dramatic reduction in costs and increase in operational efficiency at Pembina Trails School Division," remembers Reece. "With RSA it has been a true collaborative effort. We gave them a high target and they are there. PTSD has continued to push vendors to support an all digital "paperless" print shop to accelerate the movement of information in an intuitive, effective way. RSA, with WebCRD, has not only been up to the task, they have done some pushing of their own to partner with us and continue to supply a future-proof network with products, support and pricing that make WebCRD not just the best choice, but the only choice for us."
© 2011 Rochester Software Associates, Inc. All brands and product names are registered trademarks of their respective companies. 05/2011
Study Quick-Look:
Application Study Industries
Solutions Used by Customer
Challenges
Time-consuming teacher copying and printing that cost productivity and limited student contact time.
Manual time-consuming print submission and job ticketing process that took 2-3 days.
Statistics
| | |
| --- | --- |
| Students: | 13,000 |
| Teachers: | 950 |
| Staff: | 2,100 |
| Schools: | 34 |
| Pages/Month: | 700,000 |
Solutions
WebCRD - Web-to-Print submission and production management software
LDAP authentication
Barcode scanning workflow
Results
Saved 114,000 teacher hours annually and streamlined workflow
Improved turnaround 67%
Print shop now a profit center
In-sourcing other school's work
Brought color volume in-house