Home /

Frisco Independent School District
WebCRD Helps Print Center Capabilities Grow as Fast as Their District
A Frisco Independent School District case study by Rochester Software Associates.
"
We looked at other web to print solutions but WebCRD's features were by far the most useful in our educational environment.
Customer Background/Solution Overview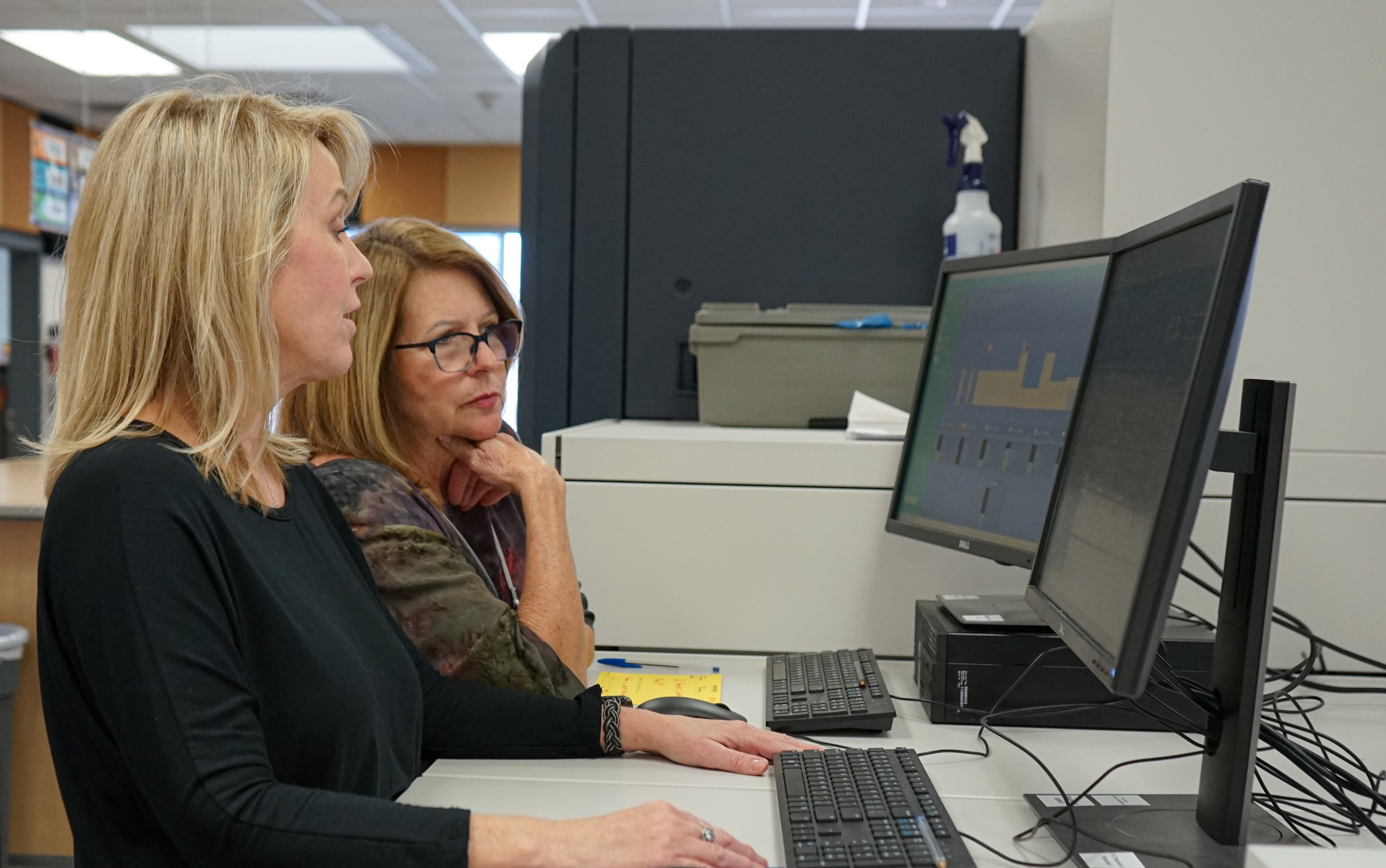 Frisco Independent School District (FISD) in Frisco, Texas continues to add new students, after more than two decades of phenomenal growth. Student enrollment has ballooned from fewer than 8,000 students in 2000 to more than 37,000 in 2010 to more than 66,000 today. The District's FISD Print/Mail/Sign Services department was charged with preparing for this increase by maximizing production capabilities while controlling costs. After extensive research they purchased new production equipment and chose RSA's WebCRD Web to Print software as a key component of their solution.
The department name, FISD Print/Mail/Sign Services, speaks for itself. Their 17 employees help the District use their time more efficiently and decrease their expenses by providing print, mail and sign services on site. "Our staff is highly trained and knowledgeable. We are able to assist customers with printing services to achieve education goals and stretch their budgets," explains Sherri Broderick, FISD Print/Mail/Sign Services Manager. "We are always looking for additional ways to save the District dollars. Whether our customers need print orders for whole grade levels, school wide announcements, curricula or large print orders, we can help them determine what to send to Print/Mail/Sign Services. We can even assist them with outsourcing to approved District printers; all the while ensuring they receive the best quality and cost."
FISD Print/Mail/Sign Services had two key objectives when they first met with RSA: increase the volume of work to keep pace with population growth and their success at bringing more jobs in house and decrease manual workflow processes to eliminate work hours and improve order accuracy. The key to achieving both objectives was completing the elimination of their manual order entry. As recently as 2008, the print shop would supply each of the District's campuses with 500 3-part NCR forms at the beginning of each school year as print job tickets. Each ticket had to be filled out by a customer and then hand-entered by a Print/Mail/Sign Services employee. By 2011, they had already reduced the quantity of paper tickets to 250 per campus, but users would still order additional NCR forms when they ran out and hand-written, incomplete and inaccurate job tickets were still bogging down their workflow.
"
Our Print Center used to produce print orders manually using hard-copy originals with 3-part NCR print tickets. Each order was manually keyed on the high volume print production copiers. We received 300-400 job tickets each day during peak times and each ticket took 3-5 minutes to complete. Today, 100% of our orders come in electronically.
WebCRD was installed in 2012. Today, Print/Mail/Sign Services receives all print orders electronically— eliminating 40 hours per month of labor, accelerating turnaround on jobs by two days, and allowing them to grow their volume from 1.7 million impressions per month in January of 2012 to 5.5 million by fall of 2022 with anticipated growth.
Knowledge and power is better for everyone.
"When our customers know the status of their orders they get peace of mind," says Broderick. "It also eliminates the need for the print shop to field calls about status or execute reprinting of work that has already been completed." WebCRD allows Frisco ISD to track jobs. WebCRD reporting shows each campus' print orders and completion time so they have a record of all print orders submitted each day from the print shop. Users can also log into WebCRD at any time and track jobs in real time. They can easily determine if a job is being held up because of a needed approval or additional information. The system also sends email notifications throughout the production process to keep customers up to date
WebCRD doesn't just offer more information, it provides more powerful functionality. The software gives team leaders at the campus level the ability to place orders for teams of teachers utilizing customizable distribution lists. At the same time, Print shop employees can easily send jobs to the correct printer without having to re-ticket and "file to print" each job.
Doing more with less.
By eliminating manual job entry, decreasing order errors, and automating tracking and reporting, Frisco ISD has been able to focus available resources to provide far greater capabilities. "We're ready to increase the volume of work in the coming year as each campus turns to us for greater convenience, quality, cost savings and additional finishing options," explains Broderick. "We have also been able to increase our repository of files archived in our catalog for global use for print and sign materials. All this while being able to reduce the rates we charge campuses and departments for printing services." WebCRD can also automatically route jobs to Frisco ISD's new production equipment they leased to offer additional media sizes, colors and weights and more finishing options.
It's all about being ready for every teacher and every student every year.
Many school districts have had to react to and prepare for growth, but few on the scale of Frisco. For many years, Frisco ISD was one of the fastest growing school districts in Texas and the nation. While the pace of student growth has slowed, the District is still adding hundreds of new students each year and continues to open new schools to serve them. With an average of approximately 1,000 new students expected each year for the next five years, FISD Print/Mail/Sign Services knows they need to be prepared. They also project additional volume growth from moving campus-level print to the print shop. Using WebCRD for submission and automated workflow management was a crucial step in their plan. Recently, inkjet printers were installed to further support their plan to increase volume and decrease turnaround time. The new presses add capacity to handle large volumes, increase speed, and lower costs for the District.
© 2022 Rochester Software Associates, Inc. All brands and product names are registered trademarks of their respective companies. 05/22
Study Quick-Look:
Application Study Industries
Solutions Used by Customer
Challenges
Reduce touches of jobs in the print center
Accelerate turnaround time of print jobs
Increase volume capabilities of print center
Improve tracking and order accuracy
Enable personalized printing
Statistics
| | |
| --- | --- |
| Students:: | 66,009 (approx.) |
| Faculty:: | 4,533 (approx.) |
| Customer Sites:: | 73 schools |
| Print Shop Staff:: | 17 |
| Impressions:: | 5.5 million/month |
| Avg. Orders:: | 1,400 daily |
Solutions
WebCRD™ Pro automated workflow
Streamlined web submission eliminated manual entry
AutoFlow™ sends jobs directly to ideal devices
AutoStock™ Module- inventory management
QDirect™ output management
ReadyPrint™ Pro prepress software
Results
Reduced manual work 40 hours per week
Turnaround time reduced by two days
Significant reduction of calls and reprints
Campuses and departments can easily customize materials